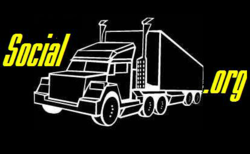 Found it to be a valuable tool for experienced truck drivers, rookie drivers, dispatchers, and logistics companies to increase overall production. Many believe Socialtruck is the future of the transportation industry.
Tomah, WI (PRWEB) March 29, 2012
Truck Drivers, Dispatchers, and Logistics companies now have Socialtruck to reduce their rollover rate and increase their driver retention by having their employees and contracted owner operators join.
Socialtruck has been called the latest and greatest social networking tool to change the transportation industry.
As you know everyday millions of truck drivers transport freight around the world. What if there was a valuable tool that connected all these truck drivers together to give each and every one of them the knowledge needed to make their jobs easier?
A group of dispatchers from across the United States created Socialtruck as a tool for the public to use without a cost to them or the industry itself. The founders of Socialtruck currently work as fleet managers for global logistics company's nation wide and have now created this revolutionary "industry changing" tool to increase supply chain productivity while decreasing rollovers and accidents to better the industry.
Simple, knowledge is the power behind Socialtruck.When a truck driver has not been to a location previously is when rollovers and accidents happen, 9 out of 10 times. The driver using Socialtruck would contact experienced drivers about the drops while prior planning their trip. Details the driver would want to know from the experienced drivers range from; the shortcuts, to what stop lights to be mindful of, who works at the shipping docks. Before Socialtruck the driver would contact their dispatcher for advice on these matters. "Nobody knows the nations truck stops and locations better than the truck drivers that have been there previously apparently." Co-founder Steve McGarry states.
Socialtruck claims it will soon be used by every truck driver, logistics company, and dispatcher worldwide, and it is time for the industry to change for the better. Socialtruck states that all their members and the companies on the site will vastly increase their worldwide transportation connections, and invites everyone to join for free and watch Socialtruck grow.
"Free tools are always the best ones." -Steve McGarry (co-founder)