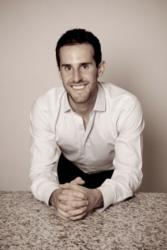 "The simple, easy-to-follow steps in this eBook are designed to help anyone suffering from this often debilitating condition to take control of their health, and eventually manifest a healthy, pain-free body."
New York, NY (PRWEB) March 29, 2012
Dr. Josh Wagner -- the only Manhattan chiropractor specializing in Torque Release Technique, a drug-free, safe and natural treatment for Fibromyalgia and other chronic pain disorders – announced the release of his new eBook, "Freedom from Fibromyalgia: Your Guide to Empowerment, Self-Care and Natural Healing Solutions" which is available through his new, eBook-specific website.
For your copy, go to DrJoshWagner.com and download this comprehensive, easy-to-follow and innovative new manual, which offers the very latest, cutting-edge protocol in natural healing solutions – including natural chiropractic care, cellular rejuvenation, diet and menus, toxins related to Fibromyalgia, and much more.
Wagner says it's essential for those people suffering from Fibromyalgia – which includes symptoms of widespread pain, cognitive impairments, fatigue, sleep disturbance, and joint stiffness, which Wagner believes are the result of a nervous system under stress or toxicity – to understand they can get better, and heal their body.
"No one is born with Fibromyalgia, so if your body for whatever reason created this condition, it can also heal itself," says Wagner, founder of The Life House Chiropractic on Manhattan's Upper East Side. "The simple, easy-to-follow steps in this eBook are designed to help anyone suffering from this often debilitating condition to take control of their health, and eventually manifest a healthy, pain-free body."
Wagner based the protocol in the new eBook around his treatment methods at The Life House, which has helped even long-term Fibromyalgia sufferers recover their health, he says.
"The Life House has seen tremendous success in treating people with fibromyalgia, some who've suffered for a decade or more without finding relief," said Wagner. "So many patients who come for care are very frustrated and despondent over their symptoms, and reliant on pain medications to merely keep them functioning in life. But by addressing the root causes through implementing the protocols in this eBook, the body can and will begin to successfully heal."
For more information, contact The Life House at 212.876.3286. Also see The Life House on Facebook and Twitter.
The Life House Chiropractic also helps individuals and families dealing with other conditions such as high blood pressure, chronic fatigue, anxiety, depression, migraines, attention disorders, and childhood illnesses. With Torque Release chiropractic care, whether it is an acute or chronic condition, your body will get well naturally.
ABOUT DR. JOSH WAGNER: Wagner is the founder of The Life House Chiropractic, and he was mentored in TRT by its founder, Dr. Jay Holder, and graduated from New York University with honors and earned his doctorate in Chiropractic at Life University in Atlanta, Georgia. Wagner is a native New Yorker raised in Chappaqua.
The Life House Chiropractic : 19 East 71st Street, Suite 5a, New York, New York 10021 : 212.876.3286 : info(at)lifehousechiropractic(dot)com or visit http://www.lifehousechiropractic.com