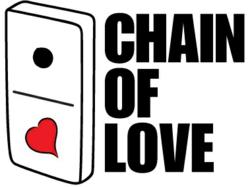 These kids need to understand that there are people out there in the world hurting. If we can do something to help them and teach our students that they can make a difference, it's worth it.
San Antonio, TX (PRWEB) March 28, 2012
March 28, 2012 - (San Antonio, TX) - For the seventh year in a row, St. George Episcopal School of San Antonio is celebrating its "Chain of Love" domino-toppling event to help those in need. On Monday, April, 2, 2012, students and guests will gather to witness the spectacular destruction of the symbolic "Chain of Love."
Last year the event raised over $20,000, with each dollar represented by a domino in an enormous chain on the gymnasium floor. The entire chain took approximately ten minutes to fall while students and faculty looked on. This year funds will be sent to three needy areas of the world: Haiti, Honduras, and Peru. As in years past, everything the students and faculty raise will be given to charities working to improve living conditions and bring relief to the problems faced by people living in those areas.
The four-time NBA Champion San Antonio Spurs its Silver & Black Give Back project selected the 2011 Chain of Love as a Team Up Challenge Champion. As a winning selection, St. George's was awarded $20,000 to help with project development and expansion. The Chain of Love has also received local and national media in years past due to the visual aspect of the project's culmination.
St. George's Lower School Director Patti Evans says although the recognitions are nice, knowing the students are learning a valuable life lesson is most important. "These kids need to understand that there are people out there in the world hurting. If we can do something to help them and teach our students that they can make a difference, it's worth it."
To learn more about the current St. George Chain of Love fundraiser to fight global poverty, please visit:
http://www.saintgeorgeschool.org/home/school_life/citizenship/chain_2012
To see more about St. George & the San Antonio Spurs' Team Up Challenge, please visit:
http://www.nba.com/spurs/community/team_up_stgeorge.html.
To see the 2010 St. George Chain of Love on CNN, please visit:
http://www.cnn.com/video/?/video/us/2010/04/27/dnt.tx.domino.haiti.fundraiser.kens
About St. George Episcopal School:
St. George Episcopal School is a coeducational, Christian community of approximately 500 students, Jr. Kindergarten through eighth grade, located in the city of Castle Hills in the heart of San Antonio, Texas. They offer outstanding academic preparation for high school and beyond to students of high to exceptional ability. Their graduates routinely excel at top high schools across the city. In continuous operation since 1954, St. George remains true to the original vision of its founders: to provide an affordable, quality academic experience to students regardless of culture, faith, and economic background. ###