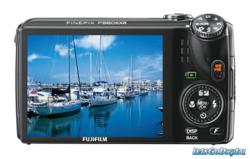 SmartAUTO features 58 different shooting modes, making this the most impressive and versitle auto mode in this class of camera.
Atlanta, Georgia (PRWEB) March 28, 2012
10Rate reviewers and staff selected 10 of the best point and shoot digital cameras for 2012, assigning each a numerical rating as well as awarding three models that stood out for quality, value, and budget. Testing and consideration for this Digital Point and Shoot Cameras Top 10 list were given based on portability, technological ability, and the following set of eight criteria:
1. The size and type of sensor
2. The size and resolution of LCD viewing screens
3. Optical and digital zooms
4. Amount of auto focus and scene selection modes
5. Image stabilization and Intelligent digital zoom features
6. Number of shots per battery charge
7. Video and sound recording capabilities
8. Extra features like WiFi uploading, USB battery charging, and GPS tracking
The annual Best Point and Shoot Digital Camera 2012 awards list was headed by a Coolpix camera, the P310, winning the Best Quality spot and a near perfect 9.5 out of 10 rating. The review noted several strengths of the digital point and shoot camera as follows: "The camera's retro design is simple, sleek, and attractive. Don't be fooled though, Nikon made sure the camera is anything but retro, its all function here. The f/1.8 wide angle zoom lens on this camera provides enough flexibility to capture moments inside or outside, dark or bright. The 19 different scene modes are more than enough to assist photographers in new situations." The review also mentioned that the Coolpix P310 is available as of the end of March.
10rate's editors also gave the Best Value Point and Shoot Digital Camera award to the Cybershot DSC-WX150 in the third place spot. With a rating of 8.5 out of 10, the review boasted that it "is loaded with features every photographer will find extremely helpful in creating powerful images. Features include the 18.2 megapixel sensor, high speed auto focus performance most light situations (including low light), image stabilization, 10x optical zoom, manual exposure mode, 9 "Picture Effect" settings, and 5cm macro focus, full HD video recording with stereo sound, and HDMI output." According to 10rate, this camera hits the shelves in May.
Additionally, the Best Budget award from the Top 10 Best Digital Point and Shoot Cameras list went to another Cybershot, the DSC-W690, for which 10rate noted, "Entry level photographers and those looking to upgrade their older point and shoot cameras will find exactly what they are looking for with this offering from Sony. The best thing about this camera is its small size. It will fit in any bag or pocket without becoming a burden, whether it be on a walk in the woods or a night out on the town. The camera offers a 16.1 megapixel sensor and a 10x optical zoom, both impressive numbers. 720p video recording is an added plus for those who like to share more than just images." This one will also be available in May.
Lumix cameras were featured for three models in 10rate's digital point and shoot camera ratings, while Coolpix, Cybershot, and Powershot were all recognized twice. A Canon Powershot Camera earned second place in overall ranking, saying this for the ELPH 320HS available in April: "Canon's newest addition to the PowerShot line has a lot to offer in a small package. This camera is designed for the tech savvy photographer on the go combined with the ease of use any newcomer needs to get started. At less than 1 inch thin, there is no reason this camera will stay at home. SmartAUTO features 58 different shooting modes, making this the most impressive and versitle auto mode in this class of camera."
10rate.com conducts reviews in various product and services categories and publishes "Expert Top 10 Lists for Everything in your life." The company's web site strives to "Make it Easy" to select from the hundreds of choices there are in the product and service market place. All products and services are thoroughly researched by the companies expert editors prior to receiving a rating on a 1-10 scale. In addition to product reviews the companies editors write guidelines, buying guides and articles on various topics surrounding each product or service category covered to help educate the consumer.