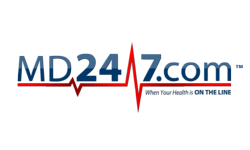 Our Videos are Meant to Inform People Informally.
Tampa Florida (PRWEB) March 27, 2012
MD 247, providers of a unique 24/7 telemedicine service, announced on Tuesday the release of new videos on their official YouTube channel.
Visitors to the MD 247 YouTube channel can currently view videos introducing MD 247, as well as videos which discuss the services members can attain as MD 247 members. MD 247 will continue to expand their catalog of available videos to include both current events as well as medical innovations being integrated into the MD 247 program.
MD 247 Founder Thomas Meehan state, "Our YouTube channel has allowed us to take explanations about telemedicine, and put those dry informational videos with powerful images and give viewers a better understanding of how our product can protect their health."
MD 247 is a twenty-four hour a day affordable concierge telemedicine company based out of Seminole Florida. All members have unlimited telephone access to a nationwide medical support team with just a phone call. MD247.com has a virtual platoon of Registered Nurses and board certified physicians available to members for ALL non-emergency situations. You can learn more about MD247.com by visiting their website.