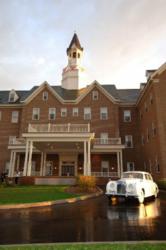 We are delighted to be recognized as one of the top hotels by such a prominent national publication
St. Delafield, WI (PRWEB) March 29, 2012
US News & World Report has placed the casual yet profoundly elegant Delafield Hotel among its top five hotel choices in the state of Wisconsin.
Although The Delafield Hotel's regular visitors would rather keep their favorite Wisconsin boutique hotel a secret, the cat's out of the bag. The Delafield Hotel, located in the charming city of Delafield, Wisconsin, was just rated number four in U.S. News & World Report's list of the best hotels in Wisconsin for 2012.
"We are delighted to be recognized as one of the top hotels by such a prominent national publication," said Philip Lane, general manager of The Delafield Hotel. "We work hard to ensure every guest enjoys their stay, whether they come for a romantic getaway, executive board retreat or social event."
Opened in March of 2006, The Delafield Hotel features 38 luxury suites complete with five-star amenities such as Baker furniture, lavish spa bathrooms equipped with Kohler products, and high-definition flat screen televisions.
The hotel, a popular Wisconsin wedding venue and business conference site, emulates a turn-of-the-century look and feel with its red-brick exterior, deep cherry woodwork, antique decor and beautiful oriental rugs. Andrew's Bar and Restaurant, located inside the hotel, serves New American cuisine in a comfortable atmosphere.
Guests are drawn by the hotel's proximity to downtown Delafield's specialty shops, spas and restaurants; Erin Hills Golf Course, recently selected for the 2017 U.S. Open; historic landmarks like Ten Chimneys, home to late theater legends Alfred Lunt and Lynn Fontanne; the living history museum Old World Wisconsin; and scenic state forests and parklands, which include a stretch of the Ice Age National Scenic Trail.
Conveniently located between Milwaukee and Madison, The Delafield Hotel is more than a boutique hotel, it's one of life's enriching experiences.
For more information about The Delafield Hotel, please call (262) 646-1600 ex. 103 or go to http://www.thedelafieldhotel.com.
About The Delafield Hotel
Exuding sophisticated elegance and classic old-world charm, The Delafield Hotel is one of Southeastern Wisconsin's most-sought-after full-service preferred boutique destinations for weddings, business meetings and romantic getaways.