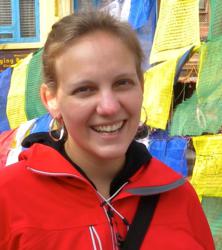 [Robin Weber Pollak is] a strong believer in the transformative power of cross-cultural experiences.
Ann Arbor, MI (PRWEB) March 29, 2012
JOURNEYS INTERNATIONAL, the global ecotourism company, announced the appointment of Robin Weber Pollak as new president of the company. Pollak will oversee all activities of the company from its Ann Arbor, Michigan, headquarters.
"I am a strong believer in the transformative power of cross-cultural experiences," said Pollak. "I am delighted to build on Journeys' reputation as an operator of ecologically sensitive and culturally responsible travel."
Pollak has over 10 years of experience leading travel and experiential education programs and more than 25 years of experience on JOURNEYS trips that she accompanied with her parents. Effectively, she grew up in a household that was all about international travel. She received her M.B.A. from the George Washington University in Washington, DC, and her B.A. from Carleton College in Northfield, MN. She is a member of Phi Beta Kappa. Prior to joining JOURNEYS in 2007, Pollak worked for Hillel: The Foundation for Jewish Campus Life where she worked most recently planning and leading alternative break trips for college students.
JOURNEYS was started in 1978 by directors Joan and Will Weber who will remain active with the company. "We are looking forward to continuing the family tradition of personalized hands-on travel to exotic destinations," said Will Weber. "In addition to her experience, Robin brings a sense of energy and enthusiasm. It really is an exciting time for JOURNEYS."
Pollak's upcoming trips include a hiking adventure through Scotland in August and an active exploration of Patagonia over the 2013 New Year's holiday.
About JOURNEYS INTERNATIONAL
JOURNEYS INTERNATIONAL is the longest standing family-owned global ecotourism company in the US. JOURNEYS offers full-service exotic, guided cross-cultural explorations, nature safaris, treks and eco-tours in remote corners of Asia, Africa, the Americas and the Pacific. Founded by current directors Will and Joan Weber in 1978, JOURNEYS boasts an extraordinary record of client and staff satisfaction and several industry awards.