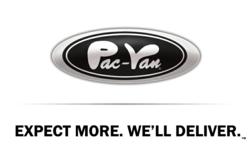 "Pac-Van has established a long history of excellence in modular construction and this year's award winners continue that tradition," said Ted Mourouzis, President of Pac-Van, Inc.
Indianapolis, IN (PRWEB) March 28, 2012
Each year, the Modular Building Institute recognizes the leaders in the industry by presenting their Awards of Distinction to recognize the best modular projects in the world. The projects are scored in four categories by an official panel of judges. Those categories include: architectural excellence, technical innovation, cost-effectiveness / energy efficiency and calendar days to complete. Despite the slow construction market, the contest experienced a 40% increase in nominees over last year.
The "World of Modular" conference was held in Orlando over the weekend, concluding with the awards ceremony on Monday evening. Pac-Van's six award entries included a used DSA modular classroom that had been renovated into a homebuilder sales office; a large, permanent modular daycare facility; a custom modular building used as a trade show exhibit; temporary classroom labs for a university; a DOT weigh station; and a permanent food testing lab.
"Pac-Van has established a long history of excellence in modular construction and this year's award winners continue that tradition," said Ted Mourouzis, President of Pac-Van, Inc. "To regularly receive such recognition in an international competition really says something about the expertise of our employees to consistently deliver innovative building solutions that meet our customers' needs and exceed our customers' expectations. I would like to personally congratulate our Pac-Van team on these awards and the many other successful modular building solutions we provide to our customers every year."
Pac-Van captured Honorable Mention awards in the Permanent Education 5,000-10,000 sf category for the American Opportunity Foundation Child Care Facility in Delano, California. The modular classroom facility features two large child care areas as well as several private offices and a unique stucco exterior. (images featured to the right)
Pac-Van also received an Honorable Mention award in the Greatest Revision under 10,000 sf category for the R+U Architectural, Building & Development Firm Sales Office located in Granada Hills, California. The modular sales office for the property developer renovated from two DSA classrooms. (images featured to the right)
About Modular Buildings
A modular building is a factory-built structure that complies with the same building codes as traditional construction. Modular construction is ideal for any application including education and government facilities as illustrated above. They offer the advantages of early occupancy, portability, financial flexibility, and often cost savings. Modular buildings have established a growing niche in the construction process for organizations that need quality temporary or permanent space without the delays often associated with traditional "site built" construction. Modular buildings have also been identified as a more eco-friendly building option for those companies looking to reduce their carbon footprint.
About the Modular Building Institute (MBI)
The Modular Building Institute (MBI) is the international non-profit trade association representing those in the modular construction industry. Members include providers of code compliant relocatable buildings, as well as permanent modular construction contractors and suppliers. It is MBI's mission to expand the use of offsite construction through innovative construction practices, outreach and education to the construction community and customers, and recognition of high quality modular designs and facilities.
About Pac-Van, Inc.
Pac-Van, Inc. is a regional provider of high quality, permanent and portable buildings such as mobile offices, steel storage containers and modular buildings. The company provides dependable, local service to customers in a wide range of sectors, including those in the commercial, industrial, construction, government, oil and gas, medical, and education markets. Pac-Van is headquartered in Indianapolis, IN and has local offices and staff in 26 cities in 18 states. The company is owned by General Finance Corporation (NASDAQ: GFN). More information about Pac-Van, Inc. can be found at http://www.pacvan.com. Connect with Pac-Van on LinkedIn (http://www.linkedin.com/companies/pac-van-inc) and Facebook (https://www.facebook.com/pages/Pac-Van-Inc/169137416525176), add us to your circle on Google+ (Pac-Van) or follow us on Twitter (@pacvan).