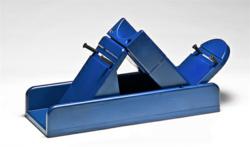 Houston, TX (PRWEB) March 29, 2012
MMAR Medical will be the exclusive distributor of Home Heart Beats' Original AFO Assistant, a revolutionary dressing aid that allows AFO brace users with limited mobility don their ankle foot orthosis (AFO) and shoe with ease and comfort. The device gives AFO users with limited upper mobility or flexibility more independence and a higher quality of life. Ideal candidates include but are not limited to stroke survivors who require AFO bracing for walking.
The American Heart Association reports that 795,000 individuals suffer a stroke each year and the National Stroke Association concurs that there are currently approximately 6,400,000 stroke survivors in the US alone. Many of these stroke victims suffer damage to the part of the brain that normally sends information to the ankle. The result is an inability to flex the ankle or lift the front part of the foot, a condition commonly known as Drop Foot. Individuals suffering from Drop Foot are often forced to either drag the affected foot when walking or overcompensate by using the knee to raise the entire lower part of the leg. For many of these individuals, an AFO brace holds the foot in place, making walking more natural, comfortable and safe.
Unfortunately, putting on an AFO brace each morning can be a difficult task for individuals with limited arm or trunk mobility / flexibility. Thanks to the AFO assistant, these individuals now have the ability to attach the AFO brace and put on their shoes independently.
About the AFO Assistant:
The AFO Assistant is an original product from Home Heart Beats, LLC, a Princeton, NJ based company. It was first debuted at The American Physical Therapy Association in February 2012 and was met with industry-wide praise.
Features and benefits of the AFO Assistant include:

Adjusts to fit any size AFO
Allows stroke survivors with limited arm or truck movement to easily put on their AFO without pain or difficulty
Holds the AFO brace in place, preventing shifting or tipping as the brace is attached
Lightweight and easy to use
One-of-a-kind system that uses a brace groove, pressure operated lever, and spring to administer the AFO
Comes with a shoe platform accessory which helps the individual also put on their shoe.
Works with either the left or right foot
Patent Pending
Target Markets for the AFO Assistant:

Stroke survivors
Individuals who require an ankle foot orthosis but have limited upper body movement or flexibility
Physical therapists
Occupational therapists
Orthotists
Healthcare providers in the Neurological Disease field
Stroke rehabilitation centers
Nursing facilities
Hospitals
Private practice healthcare professionals
About the Inventor and Manufacturer:
Home Heart Beats, LLC was formed in April 2010 with the mission to provide rehabilitative client centered services that promote independence in activities of daily living; perform evaluative services to create safe environmental access; and educate the client on innovative universal design products that can create a safe and comfortable home for a lifetime of living.
About MMAR Medical Group, Inc.:
MMAR Medical is a wholesale orthopedic rehabilitation and sports medicine product company based in Houston, Texas. They have been providing wholesale pricing on high end medical brands to sports medicine and orthopedic medical professionals since 1990. With a primary focus on medical braces, including a wide array of carbon and plastic AFO braces, MMAR is currently one of North America's leading medical brace distributors and carries a large selection of rehabilitation accessories such as the AFO Assistant.