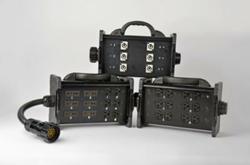 "LED lights require more options for powering lighting fixtures, and the new Break Out Boxes answer this need by providing Edison, stage pin and PowerCON connector options," said Bob Luther, Lex Products' CEO.
Shelton, CT (PRWEB) March 28, 2012
In response to growing customer demand, Lex Products Corporation, a North American leader in power distribution and control systems, has announced the further expansion of its PowerHOUSE™ Series to include a range of portable power distribution boxes designed for the theatrical production market.
The new "Break Out Boxes" provide connection points for entertainment lighting fixtures, including LED lights, with multiple versions that feature various types of receptacles. All of the new boxes are fed from industry standard six-circuit lighting cables.
"With the proliferation of LED lights in entertainment venues, the market requires more options for powering these lighting fixtures, and the new Break Out Boxes answer this need by providing Edison, stage pin and PowerCON connector options," said Bob Luther, chief executive officer of Lex Products. "The ability to mount power distribution boxes is also critical, so Lex Products designed an alternate model that enables simple attachment to trusses or poles, horizontally or vertically, with minimal effort."
Two Break Out Box versions include feed thru options to allow multiple boxes on the same feed. The feed thru model with PowerCON outputs enables multiple low wattage LED lights to be powered from the same circuit.
The new Break Out Box models feature a Lex Products LSC19, 19 pin, 6-circuit, 20 Amps per circuit panel mount male or inline male on a cable tail, to three different output configurations:

NEMA 5-20, 20 Amp duplex receptacles
NEMA 5-20 Edison receptacles wired in parallel with 20 Amp stage pin receptacles
20 Amp PowerCON receptacles
Lightweight, compact, and stackable, the PowerHOUSE Break Out Boxes weigh less than 8 pounds and are designed for easy portability, and manufactured for durability. The Break Out Box is available in a basic model, as well as a mountable model, which allows it to be attached to trusses or poles with a C-clamp, which can be purchased separately. The Break Out Boxes are constructed of engineered thermoplastic material. The boxes are designed to be resistant to corrosion, shock and impact.
As part of a growing product line known as the PowerHOUSE "Bento Series," the original PowerHOUSE Bento Box™ was introduced by Lex Products in September 2011, in a 100 Amp stage pin configuration. In addition, Lex Products offers a wide range of configurations and features, enabling customers to choose the model that meets their specific needs best. Customers can contact Lex Products for custom distribution box designs, as well.
Lex Products offers a full line of PowerHOUSE brand portable power distribution boxes, ranging from 20 to 400 Amps, and designed for ease of use. For detailed product specifications or more information, please visit http://www.lexproducts.com.
About Lex Products Corporation:
Lex Products Corporation is a leading manufacturer of innovative power distribution and control systems for demanding markets, including entertainment, industrial and the military. Founded in 1989, the company specializes in portable power systems including distribution boxes, cable assemblies, cable protectors and other products, designed to withstand rough use and harsh environments. Lex Products is ISO 9001:2008 certified in the design and manufacturing of sheet metal and cable assemblies. Created by the International Organization for Standardization, ISO 9001 is an international standard that mandates requirements for an organization's quality management system.
Headquartered in Shelton, Connecticut, the company also has offices in Sun Valley, California. The company was ranked in the 2011 Inc. 5000, and ranked 72nd for growth in the manufacturing segment. To learn more about Lex Products, please visit http://www.lexproducts.com