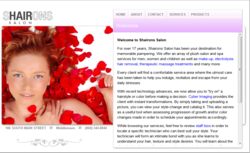 East Hartford, CT (PRWEB) March 29, 2012
Shairon's Salon, of Middletown, CT has launched a new website which was designed and developed by ForeSite Technologies an East Hartford based Web Development and IT Services firm.
Shairon's Salon, is a full service salon for adults and children. In order to cater to the demands of their increasing customer base, Shairon's Salon wanted to develop a website that would serve as a portal to provide information on their business, as well as beauty related subjects.
The objective of this project was to develop an informative web presence where prospective clients could learn more about the services offered, and existing clientele could find information regarding industry related topics.
The new site provides information on the salon with a listing of each of the services offered along with a corresponding description that differentiates their service offerings from competitors. The site includes a section which allows newsletters to be uploaded by Shairon's Salon, which can then be downloaded by any site visitors. A secured photo gallery has been added to the site, which will allow users to log in and view pictures that have been taken after their hair styles or makeovers. This section of the site is secure, so that visitors can only see their own pictures, by using a valid email address.
Since 1997, ForeSite has been designing and developing standout Web Sites and providing insightful IT support to its clients. Serving clients in the Hartford, CT and Worcester, MA areas, ForeSite offers practical, tailored and creative solutions that fit a wide range of business needs. In 2011 ForeSite was named one of Inc. 5000's fastest growing, privately held companies. For further information, call 1-866-464-7483 or visit ForeSiteTech.com