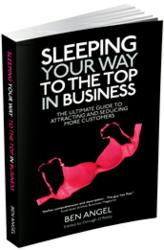 Small business owners facing bankruptcy must position themselves apart from their competition to survive.
(PRWEB) March 29, 2012
Vistage International announced it's confidence index rose to 105.1 in the first quarter of 2012 from 98.8 in the final months of 2011.
Compiled from a survey in March of more than 1,850 small business chief executives, it is the highest increase since the first quarter of 2011. The upward trend is giving small business owners hope but they are not yet out of the woods.
"Now," says influence and business expert Ben Angel, "small business owners must do what they can to establish themselves with a presence in their marketplace to be reckoned with and set themselves apart from their competitors while others are focused on scraping by."
"Whether they are struggling to get new clients, keep existing ones or just wish someone would help make their life easier," says Ben, "there are strategies that can be used to bring in new clients that cost very little. In fact, some take just a great idea. Creating a compelling marketing message that resonates with their target market is at the heart of not only attracting new clients but in essence creating a business that is newsworthy. This lends itself to enormous levels of credibility to businesses that otherwise go unheard of and consistently struggle with their cash flow."
The strategies in Ben's book, 'Sleeping Your Way to The Top in Business,' includes topics on standing out in an oversaturated marketplace, positioning business for success and ethically influencing customers to buy more, more often. And most importantly, answering the question, "why are people buying from their competitors instead of them."
Albeit a controversial title and written with a Joan Rivers sense of humor, Ben's message is clear. "The only person a small business owner must sleep with to get to the top is themselves. They must convince themselves that they have what it takes, otherwise if they don't buy into their own vision, then how are they going to influence others and get them to invest in their products or services."
"The key to success in this volatile marketplace," says Angel" is to communicate a message to consumers in a way that captures their hearts, minds and of course wallets."
Angel made the decision to give away digital versions of his complete 300 page book free after witnessing business owners facing bankruptcy. "It broke my heart," says Angel, "small business is still suffering in America. People are putting their homes up for sale to survive."
Given away at Angel's Facebook page, http://www.facebook.com/yourwaytothetop SYWTT achieved more than 10,000 downloads within days of going live. "We're ecstatic with the response and excited to see business owners putting the practical information to good use in growing their business," Angel says.
About Sleeping Your Way to The Top in Business: Specifically designed for business guerrilla's unafraid to wage war on their own mediocrity, Sleeping Your Way to The Top in Business will show you step-by-step formula's for attracting and seducing more customers than ever before – transforming your company, your team and you into weapons of mass seduction.
About the Author: Ben Angel, otherwise known as 'The Agent of Influence,' is Australia's number one personal branding and influence expert. As a professional trainer; Ben has delivered presentations for Toyota, Australia Post, Origin Energy and the Australian Institute of Company Directors. His aim is to provide education to small business owners suffering from unstable economic conditions in Australia and the world.
Contact: Ben Angel
03 8618 6971
http://www.benangel.com.au
Blog: http://www.benangel.com/blog
info(at)benangel(dot)com(dot)au
###