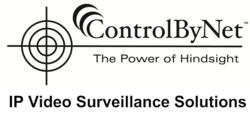 Our new white label offering allows integrators to ease into cloud-based security and focus on the core of their business and not on infrastructure
Atlanta, Georgia (PRWEB) March 28, 2012
ControlByNet (CBN), a leader in cloud-based, hosted video security surveillance solutions, announced today its new white label package for integrators providing them ControlByNet's hosted video solution starting at $10 per camera per month. The new pricing offers integrators the ability to immediately offer a cloud-based or hosted video surveillance option to small businesses and opportunity to greatly increase recurring revenue.
"Our new white label offering allows integrators to ease into cloud-based security and focus on the core of their business and not on infrastructure. With our hosted solution, i-flashback REMOTE, we worry about the uptime, servers, bandwidth and upgrades," said Ryan Strange, CEO of ControlByNet. "In addition, the price per camera per month for basic recording is usually in the $25 - $35 range, so our new pricing provides a great opportunity for resellers and integrators to gain significant recurring revenue."
CBN's i-flashback REMOTE provides web-based controls for hosting providers to manage multiple servers, users and accounts. The solution allows users to manage hundreds of remote cameras from a single browser; including Internet Explorer, Firefox, as well as the growing number of connected devices including Windows Mobile, iPhone, iPad, Blackberry and Android.
Benefits to the integrator for the new white label offering include:

Branding - Integrators can position their branding front-and-center to the customer.
Recurring Revenue Stream - Integrators now realize recurring revenue, where in the past it was a sell-and-forget solution.
Additional Opportunities - A hosted solution keeps integrators closer to their customers, putting them first in line for new opportunities from the customer for additional services.
Secure Video - CBN's cloud video solution is not a 'store and forward' service where cameras can disappear along with the evidence. When an event happens it is immediately recorded ay the datacenter and the customer is alerted.
Future technology compatibility – CBN's flexible solution has the ability to expand camera manufacturers, which doesn't prohibit integrators from offering solutions to those with cameras already installed.
About ControlByNet (http://www.controlbynet.com)
ControlByNet provides the most advanced adaptable hosted and managed IP-based surveillance solution on the market. ControlByNet's advanced software is the cornerstone for the new security surveillance business model. By leveraging Software as a Service (SaaS), CBN's solution integrates seamlessly across its products creating limitless installation scenarios. The hierarchal nature of the software allows a single log-in with multiple levels of access from any (Internet) location which leverages existing enterprise resources. With years of development, their software solution is flexible, future-proof and designed to lead the industry. Product offerings include i-flashback LOCAL and REMOTE and ip-LookOUT, its guard monitoring application. While the i-flashback interface is as simple to use as a nanny cam, both versions of the software are sophisticated enough to manage hundreds of remote cameras from a single browser; including Internet Explorer, Firefox or even an iPhone or iPad. They currently use AXIS for remotely hosted cameras but will expand to others as manufacturers provide IP cameras that are deemed highly efficient on the network. For more information, visit http://www.controlbynet.com.
For More Information:
Deanna Anderson
AquaPR
danderson@aquapr.com