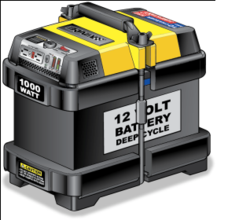 No gasoline required, no concern over carbon monoxide poisoning from generator use, and also no open flame from a candle or kerosene lantern
(PRWEB) March 28, 2012
Most power outages aren't caused by a major storm. Power transformers blowing up, cars running into utility poles, or branches falling on utility lines, are everyday occurrences that require the local power company to make quick emergency repairs. Most of these kinds of power outages last between 1 to 4 hours. According to the USDA, Refrigerators and freezers will keep food cold or frozen for up to 4 hours without power (providing the doors are kept closed), emergency power required for these short durations is usually for safety or personal convenience. Having the ability to have a light in the kitchen and bathroom at night, or powering a TV and DVR for entertainment makes the wait for full power restoration a bit more tolerable.
An easy (and silent) solution to provide emergency power is a battery inverter-generator combination such as the Rally Generator Pro Plus 1000. Using a deep cycle battery (RV or Marine style) with a 12 volt DC to 120 volt AC inverter with a 1,000 watt output can power a TV, DVR and two 40 watt CFL light bulbs for up to 5 hours (depending on exact load and battery Ah rating). These inverters are lightweight, silent, and easy to hook-up in an emergency situation. As a bonus they can also be used to jump start a car, provide power on the beach or while camping, and can be used in the yard to provide electricity for power tools.
A major reason to use this technology is for family safety. No gasoline required, no concern over carbon monoxide poisoning from generator use, and also no open flame from a candle or kerosene lantern. Anyone in the family (man, woman or child) can safely operate an inverter-generator for temporary power. A father can leave the house assured that his family will not be stuck in the dark if using this power generating alternative.