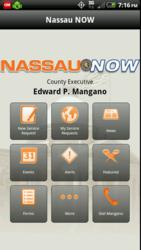 "We believe this is definitely creating efficiency, saving us man hours, and reducing paper here in the county; it also creates more transparency because you can really track everything "

– Edward Mangano, County Executive, Jan. 27, 2012
Garden City, NY (PRWEB) March 29, 2012
The mobile revolution is rooted in speed and accessibility; the technology streamlines communication with an unprecedented efficiency and ease of use, democratizing accessibility at the touch of our fingertips.
When it cuts through yards of red tape and clears up the lines of communication between residents and their community leaders, mobile flexes its muscles with a power sure to resonate on a national, and ultimate global level.
Nassau County Executive Edward P. Mangano was able to showcase mobile at its best by announcing the launch of Locality Media's "Nassau Now," the County's newest state-of-the-art mobile and web application to enhance and improve communication with constituents. The app reflects Locality Media's overarching mission statement: To provide local governments with the most advanced, easy-to-use technology tools to help continually improve the transparency, efficiency, and ultimately the health, safety, and welfare of the communities they serve. Indeed, Mangano has traversed bold, new horizons in a realm almost synonymous with arduous bureaucracy and mismanaged communication: government leaders, and the residents they represent.
The aptly titled "Nassau Now" places a premium on immediacy in a manner so tangible community residents have already realized striking benefits. In addition to being able to access a calendar of free concerts, holiday shows and firework displays, Nassau County residents have the added benefit of being able to receive up to the minute alert notifications relating to weather conditions and construction work zones based on their respective GPS location. App users are the first to learn about free programs and events happening throughout Nassau County, and a recent update even allows them to access latest press releases.
Perhaps most groundbreaking is the ability not only to receive information, but to also report – now concerned citizens can take photos of concerns and report them directly to the department responsible. The onus of knowing which department within the correct municipality is no longer on the resident or the municipal employee. The Locality Media platform understands Nassau County's 'responsibility matrix' and automatically alerts the responsible departments for speedy resolution of issues. A broken streetlight, a cracked pavement, an abandoned vehicle. . .users can submit a complaint and make a formal request to the county clerk, Legislature and even the county executive in a matter of seconds. "It has often been said that a picture is worth a thousand words," affirms County Executive Mangano, "And with 'Nassau Now,' residents can quickly and easily express their concerns to Nassau County directly by sending a photo and description through the app."
The constituent engagement solution, Nassau Now, is available for iPhone, iPad, iPod Touch and Android platforms, "Nassau Now's" clear, easily navigable interface is an online and real-time application, providing a simple way for residents to use a smartphone or tablet to contact their representatives directly. Resident reviews on iTunes - "Just got a weather alert about the snow storm" and "I have reported several issues, all of them resolved the next day" already indicate an appreciation for its broad-based functionality: if you are a resident of a community, the app provides immediate and direct benefits. Even amongst the less tech-savvy, the immediacy and convenience of the information it can provide necessitates dipping a toe in a world they may have previously avoided. Free music on Spotify is a terrific bonus; an app allowing one to communicate safety and community issues with leaders and residents takes on a new dimension on par with emergency numbers, security alarms, and fire sprinklers.
There are gadgets, and then there is safety. The app grows up, and mobile is given a whole new set of wings.
Mangano is credited for leading the way, and intuitive reasoning leaves little doubt that what has been so good for the residents of Nassau County would follow suit in communities across the nation. Nassau Now, who is next?
Download the app here:
Android: https://play.google.com/store/apps/details?id=com.localitymedia.nassaucounty
iTunes: http://itunes.apple.com/us/app/nassau-county/id483608728?mt=8