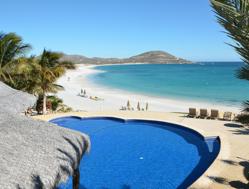 As our ever-growing list of repeat clients has shown us, they really appreciate the personalized service and 24-hour support we offer.
Cabo San Lucas, Mexico (PRWEB) March 29, 2012
Spotlighted in the magazine's April 2012 edition are, Wendy Perrin's (Conde Nast's Consumer News Editor) picks for the top 40 "Villa Pros." Comprising agents from over 30 countries, inclusion on Wendy's list is reserved for only those villa specialists who represent the travel industry's finest in service, premier vacation properties, impeccable business practices and unrivaled local destination expertise. For the 7th consecutive year, Julie Byrd has been named as a leading villa rental specialist and for 2012, only one of two villa rental specialists in Mexico having received this prestigious honor.
Having led the CaboVillas.com team for over a decade, Byrd explains the company's unique method of creating customized vacations for her clients, "We don't sell run-of-the-mill Los Cabos vacations. Each client's vacation experience is thoroughly thought-out and personalized for their own individual preferences by our expert team of Cabo specialists—be it the budget conscious consumer looking for small family getaway on a picturesque Cabo beach or a bride looking for an over-the-top destination wedding in an opulent villa." What's more, each villa or resort represented is carefully chosen to meet the company's strict requirements for optimal location, amenities and excellence.
Additionally, Conde Nast Traveler has highlighted four of the company's exclusive beachfront villas on their popular travel website, cntraveler.com. The very private 18,000 square foot Rancho de Costa which can house up to 28 guests, sits on a pristine stretch of white sand on the Bahía de los Sueños (Bay of Dreams). The opulent, hacienda-style, six-bedroom Villa Captiva boasts custom, hand-crafted Mexican furnishings, wood-beamed ceilings, original art and spectacular ocean views. Next, located on Cabo's best snorkeling beach, seven-bedroom Villa Cielito is a top choice for those seeking the utmost in privacy and beachfront luxury as well as proximity to the bustle and excitement of both Cabo San Lucas and historic San Jose del Cabo. And for those looking for the over-the-top Cabo experience, the extraordinary, seven-bedroom Villa la Cascada shares a beach with the exclusive One&Only Palmilla. This "smart villa" is wired with custom apps on its 13 iPads (one in each room) for electronic control of the entertainment and lighting systems as well as summoning of the home's attentive staff.
Each of these beachfront villas and many more are offered through the company's website, with exclusive specials available throughout the year.
"As our ever-growing list of repeat clients has shown us, they really appreciate the personalized service and 24-hour support we offer. They've come to realize that our long-term expertise and unparalleled Cabo resources is something they're not going to find with the larger travel companies out there," says Byrd.
About CaboVillas.com (Earth, Sea & Sky Vacations)
Specializing in Cabo vacations for over 20 years, CaboVillas.com represents 114 private villa rentals and 47 Cabo resorts. The company's knowledgeable staff offers an unparalleled level of personalized travel service, customizing a complete experience for each guest. CaboVillas.com also offers in-villa spa and chef services, private jet and yacht charters, tours, golf reservations, fishing charters, ground transportation, a 24-hour Cabo San Lucas service team and full event/destination wedding coordination.
Facebook: http://www.Facebook.com/CaboVillas
Twitter: http://www.Twitter.com/CaboJulie