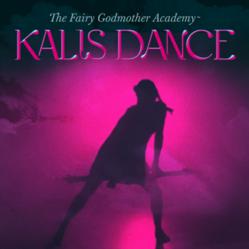 Girls who practice the Kalis learn to be both powerful AND graceful as well as fierce warriors in their own lives.
Austin, TX (PRWEB) March 29, 2012
The Fairy Godmother Academy, a trans-media brand for girls 7-13, is launching its newest Wisdom Act—an online dance video competition based on a new dance form called "The Kalis." Taken from the popular book series' The Fairy Godmother Academy Book 2 Kerka's Book (Random House), The Kalis is a powerful dance/martial art taught to "fairy godmothers-in-training" using a colorful light stick much like the light saber in Star Wars.
Girls can learn the dance moves at http://www.fgadance.com from March 23- May15, 2012 by viewing a beautifully produced instructional video featuring twenty young dancers.  Once girls master the moves, they are encouraged to create a video with friends performing the dance that they can then upload the video to Face Book or YouTube by May 15. Winners earn prizes including iPad2, iPod Touch, CDs, t-shirts, temporary tattoos, signed books and more. Jan Bozarth, Andrea Ariel of Ariel Dance Company, and members of the Fairy Godmother Academy Ambassadors of Wisdom Street Team. The winners will be announced May 17th on fgadance.com and facebook.com/FairyGodmotherAcademy.
According to author and creator Jan Bozarth, "In my book, The Kalis can be used for protection or as a courage building practice for girls, as well as for creative expression. They use beautifully decorated Kalis sticks to collect light energy that gives them the power to fight off foes or dance with friends. Now, the dance in the book has been brought to life!"
Bozarth created the concept of Wisdom Acts to engage girls in a variety of creative and community-building and personal development activities which can assist them in being real "fairy godmothers" in their own lives and in the lives of their families, friends and people in their schools and communities.
"Wisdom Acts provide girls with fun, edgy and inspirational opportunities to do things like plant gardens, create DIY fashions, design dream journals, become a good listener and more. In this case, the world can see them perform The Kalis to original music produced by the Fairy Godmother Academy and performed by Faeren. Girls are naturally creative and want to express themselves in all areas of their lives," Bozarth said.
The latest book, Sumi's Book, is the fifth in the popular series written for kids age 7 and up or Grade 3 and higher. FGA believes every girl is brave, magical, creative, and rare. Connected by their wisdom and their dreams, girls are a cultural force for good! The Fairy Godmother Academy offers content including books, music, fashion, live performances, online interactive play and more.
http://janbozarth.com/wp-content/uploads/jan_02_02best-faerie-366x550.jpg
About Jan Bozarth
Jan Bozarth is a pioneer in entertainment, specializing in the creation of highly honored and nationally acclaimed entertainment products for thirty years including music, home video, family and children's programming through her tenure with CBS-FOX, MCA, Warner-Elektra-Atlantic, Esquire Magazine, Mattel and others. As an independent creator of family and children's programming, she has developed, guided, designed, or produced more than 14 home video programs, 3 original stage musicals, 15 CD-ROM games, online games and learning products, and 4 original music CD's. She is the author of the highly popular middle grade fantasy fiction series, The Fairy Godmother Academy published by Random House. She lives and works in Austin, TX, where she develops stories and music, and trans-media properties.
About The Fairy Godmother Academy's Book 5 – Sumi's Book
Reading level: Ages 7 and up
Paperback: 208 pages
Publisher: Yearling (December 27, 2011 – available for pre-order)
Language: English
ISBN-10: 0375865756
ISBN-13: 978-0375865756