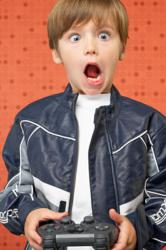 Many panelists admitted to playing video games for more hours than they thought were appropriate.
Overland Park, KS (PRWEB) March 29, 2012
We've heard all the negative arguments against video games. They're addictive time killers that contribute to obesity. Even with all the downbeat press, video game sales are in the billions of dollars every year. In a March 2012 survey conducted by Persuadable Research Corporation, it was found that many believe that video games have a clear upside.
More than three-fourths indicate that video games can improve hand eye coordination and 58% believe that they can help improve their reasoning skills. Another 59% thought that video games could help adults learn to process information faster. Improved problem solving skills showed up on the list as did improving short term memory and visual acuity, 58%. Lastly, many panelists agreed that video games could be helpful for training doctors for activities like surgery, 47%, and training soldiers for combat, 63%.
It's true that many panelists held negative views of video games as well. There seemed to be more negative perceptions towards children playing video games than adults, however. A good majority, 85% believe that children today prefer video games over going outside to play, and that they spend too much time playing video games, 68%. One of the perceived negative effects was that parents would have reduced interaction time with their children, 70%. This opinion was especially strong among those who were in the 50+ age group, 46%. The potential increase of violent tendencies and social isolation of children was also cited.
Even so, it was found that poor attitudes and perceptions toward video games don't necessarily translate into less play time. In fact, many adults played more hours than they thought were appropriate. More than half, 59%, considered one to two hours a day an appropriate amount of time for adults to spend playing video games and 62% considered that to be an appropriate amount of time for children as well. Women thought one hour of play to be more appropriate for children, compared to men who thought two hours would be alright. Overall, one to two hours a day is thought to be an acceptable amount of time for adults and children to spend playing video games.
Why do people play video games, then, if they think they might be harmful or waste of time? They provide stress relief for some and offer others a chance to escape from reality for a bit. They are a form of interactive entertainment that many find extremely enjoyable. When it comes down to it, one panelist summed it up by saying, "For me, I enjoy it because it is just fun."
For more information contact Persuadable Research Corporation, an island of research intelligence in the sea of market research companies. To get paid to take online surveys visit our panel site at Rocket Powered Surveys.