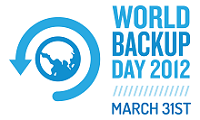 AUSTIN, TX (PRWEB) March 28, 2012
IDEALSTOR SPONSORS WORLD BACKUP DAY
Idealstor announces that it is a proud sponsor of World Backup Day. World Backup Day is celebrated on the 31st of March every year to increase awareness of the importance of regular backups for both individuals and organizations.
With heavy reliance on technology for our day-to-day lives, data is now considered the most valuable asset next to human life. Users need to be aware that it is not if--but when-- they will lose their data. A good backup plan can help save them from impending disaster.
FREE BACKUP SOFTWARE
In honor of World Backup Day, Idealstor is making available the full version of its workstation backup product for free.
WORLD BACKUP DAY SPECIAL
The biggest problem users face is "how to backup". Idealstor has a special offer to ease their backup pain, by offering a complete backup system with hardware and software at the following special price through April 30, 2012.
The Bantam Paragon Bundle provides an easy-to-use complete solution to protect a system.
With the purchase of Paragon Drive Backup software for $599 per server, Idealstor is offering a free Bantam Removable Backup System ($449 value).
The Bantam Paragon Bundle offers the following benefits and features.

Rugged portable storage that is lightweight and easy to carry
Fast disk based cartridges
Powerful backup options and easy scheduling for "set-and-forget" type operation
Seamless restore to dissimilar hardware via Adaptive Restore™
Live server migrations (P2P, P2V, V2V, V2P)
Instantly restore a critical server to a virtual environment
Encrypt and password protect your backup
HDD Cloning
Virtualization for backup purposes
Recovery of individual files or folders
Backup all critical applications consistently like Exchange, SQL, SharePoint etc.
Convert existing virtual machine to another format
Create "virtual clones" of your critical servers for instant recovery in a virtual environment
"It is befitting that a company like Idealstor sponsor an event like this and help users since Idealstor has from day one solely been focused making it easy and simple to backup data," said Nandan Arora, CTO at Idealstor.
ABOUT IDEALSTOR
Idealstor is a manufacturer of rugged removable disk backup systems that are designed to completely replace tape media for backup and disaster recovery. Combining the best of disk and tape, Idealstor offers a fast, affordable and reliable backup system for any sized business.
Contact: Martin deLannoy
Idealstor – Backup Your Way
http://www.idealstor.com
512-279-4321 x 115
mdelannoy(at)idealstor(dot)com