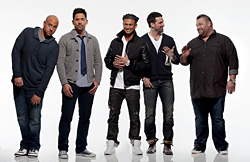 (PRWEB) March 28, 2012
RealityAired.com will provide complete Season 1 coverage of MTV's new show, "The Pauly D Project", premiering on Thursday, March 29th. The show, which features "Jersey Shore" star DJ Pauly D, will give viewers an inside look at Pauly D's life away from Seaside Heights, NJ, as cameras document his transition from world-famous housemate to world-class DJ with his best friends from his home state of Rhode Island along for the ride. His friends and show co-stars include Big Jerry (Gerard Gialanella), DJ Bigge (Michael Morgan), Ryan Labbe and JROC (Jason Craig).
In Season 1 viewers will get to see Pauly D chase his dream as he signs a recording contract with rap icon 50 Cent's G-Note Records, accompanies pop icon Britney Spears on her international "Femme Fatale" tour and tries to balance it all with the array of photo shoots, public appearances and media interviews that are now a part of his everyday life.
"'The Pauly D Project' shows my life," Pauly D tells RealityAired.com. "The best thing about it is that you get to see me all over the world DJ'ing, you get an inside look to all the craziness in my life. I got to take my boys from home on the road with me and show them the world. We are like a family, we have a lot of fun together but there is definitely some drama and wild antics."
Throughout the entire season of "The Pauly D Project," RealityAired.com will feature episode previews, story recaps, breaking news and interviews with cast members. Read an exclusive Q&A with Pauly D on RealityAired.com.
About RealityAired.com
RealityAired.com has up to the minute information (24/7), news, photos, videos and recaps on some of the most popular reality TV shows on air today. From the Jersey Shore to The Real Housewives, RealityAired.com covers everything that is need- to-know for reality TV viewers and addicts alike.
About Valdez Media
Valdez Media, Inc. was founded in early 2011. Valdez Media aims to create a network of entertainment avenues for a variety of audiences that cover television, film, sports, music and fashion. Valdez Media, Inc. is based out of the Washington D.C. metropolitan area.