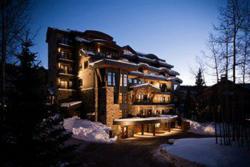 Adding the Vacation Extras booking widget makes any property an immediate one-stop-shop
Telluride, CO (PRWEB) March 29, 2012
What makes any traveler, whether new or experienced, return to a property year after year? Opinions vary, but certainly having helpful technology available on a website has proved successful for some top of the line properties. lumière telluride has teamed up with Vacation Roost to help their guests make the most of their visit to this unique and exotic destination. Vacation Roost is a travel company with access to over 150,000 homes, condos, suites and hotel rooms in North America, Canada, Hawai'i, and Mexico. The dedicated 'destination experts' at Vacation Roost spent years perfecting software in response to travelers' requests that they be able to book certain trip aspects themselves after their lodging had been chosen. Once the aptly titled "Vacation Extras" program had been expanded and tested, Vacation Roost made this technology available to their property partners for the ultimate convenience to the guests.
"Our large network of travel services keeps customers in-house by adding more value to the overall booking," said Chad Reinertson, Travel Desk Manager for Vacation Roost. "Adding the Vacation Extras booking widget makes any property an immediate one-stop-shop, and it's all real-time inventory from vendor websites." Too often smaller travel partners can't get the significant discounts that are brokered by a large volume company. Vacation Roost claims guaranteed best rates, the best selection and availability from professionally managed vacation lodging, and the opportunity to complete a vacation booking with transportation and activities.
lumière telluride chose to add Vacation Extras to the home page of their newly redesigned website, giving their guests the ability to pre-book not only their lodging unit of choice, but also rental cars or ground transportation, lift tickets and even equipment rentals. The luxurious lumière telluride has earned four stars for its beauty and its excellent service, but it remains intimate and focused on each guest's expectations. The hotel's Concierge continues to arrange for dinners, massages, ski lessons, babysitting and many other requested services. This ultra chic setting features a house restaurant that serves fresh sushi, and a welcoming bar that can pour or mix whatever the moment calls for. In the summer, cocktails and sushi are served outside at the relaxing patio area at the pool. Each morning begins with a European style breakfast that's quite a bit more than just a bagel and a banana. Room service is also available.
The thoughtfully designed accommodations begin with a standard guest room and grow to a four bedroom penthouse. Linens are 100% Egyptian cotton, kitchen appliances are top of the line, bath amenities are L'Occitane, and wi-fi is complimentary. High-comfort accommodations are a perfect backdrop for the camaraderie between friends and families who have shared good times together at lumière telluride in prior years. lumière telluride is now a top choice for family weddings, celebrations and reunions in all seasons. For those coming to Telluride for one of the famous events like the Bluegrass Festival in June, the Yoga Festival in July, or the internationally acclaimed Telluride Film Festival over Labor Day, lumière telluride will package festival tickets with lodging.
Telluride, Colorado, as a destination, is very well known for different reasons in different seasons. Whether one goes for the dazzling snow sports in winter, the diverse festivals held all summer, or the eye popping star power of the Telluride Film Festival over Labor Day, this somewhat remote community in the shadow of the breathtaking San Juan Mountains offers activities that range from cultural and educational to true outdoor adventure. Making every moment memorable in Telluride is now just a matter of a few clicks on the computer for those who stay at lumière telluride, with Vacation Extras showing a variety of activities and services and the range of prices for each. More such conveniences will be added to the lumière telluride website as they become available.
About lumière telluride
This intimate, luxury boutique hotel is one of the newest lodging properties in Mountain Village, directly on the ski slopes of Telluride Mountain and high above the fabled town of Telluride on the valley floor of the San Miguel River. It is walking distance to shops and restaurants, and to the free gondola that runs from early morning until very late at night so that guests can easily go back and forth between the two delightful activity hubs. Accommodations include hotel rooms, one, two, three and four bedroom residences and penthouses. Ownership information is available.