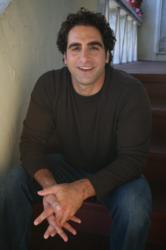 Companies need to show they care today more than ever before, not only demonstrating they are socially aware but socially active.
Los Angeles, CA (PRWEB) March 29, 2012
Matthew Emerzian, CEO of Every Monday Matters, will be one of the keynote speakers at this year's BAHRA Sustainability Conference in Boulder, Colorado on April 19th. Matthew is the co-author and co-founder of "Every Monday Matters – 52 Ways to Make a Difference". Upon graduating from UCLA with an MBA, he became a SVP of a major music marketing company. He was "on top of the heap" as they say, but felt like he was at the bottom of it all after waking up to a massive panic attack one Monday morning in 2003. It was a day that changed his life forever. Grappling with the pain and emptiness, Matthew realized he had spent his career focusing on so much that didn't matter. He turned his life around by getting involved in things that were bigger than himself, thereby changing his heart and direction in life.
Matthew created Every Monday Matters to communicate that it is the ordinary individual, either acting alone or together with others, who can change the world. Fueled by his conviction that each person matters, conference attendees will not only be inspired on a personal level, but will also walk away with a better understanding of how to incorporate social responsibility in their organization through real life examples and innovative ways to impact social change and drive employee engagement.
A new survey by Green Research reports that employee engagement is one of the top two sustainability trends for 2012. Why? Researchers concluded, "Engaged employees make things happen." Employees are the internal agents of change and engaged employees work with passion and have a profound connection to their company which ultimately drives innovation and moves the organization forward. By serving the employee and the community, the company is ultimately served.
For more information on the BAHRA Sustainability Conference go to http://www.bahra.org.
About Every Monday Matters:
Every Monday Matters is a national movement of ordinary people doing extraordinary good things for others. This organization has positively affected the lives of thousands of students with the YOU MATTER K-12 Curriculum Program that is now in over 1000 schools and in 42 states. The YOU MATTER CSR Employee Engagement Program, which includes clients such as E. and J Gallo Winery, Carolinas Healthcare System, J.S. West & Companies, Lincoln Harris, Memorial Medical Center, and State Farm Insurance to name a few, is becoming a recognized solution for Employee Engagement and Corporate Social Responsibility for many organizations nationwide.