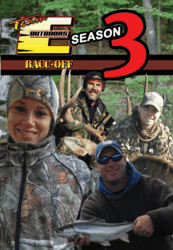 "We received a ton of positive feedback from sponsors and fans from the first season on the Pursuit Channel. We hope it will be more of the same for the second season."
Selma, AL (PRWEB) March 29, 2012
Team E Outdoors, presented by Bacc-Off Non Tobacco Chew, will join the pursuit channel and its 40 million viewers worldwide for a second season. Team E Outdoors, featuring the best hunting and fishing locations across the United States, will debut the second season on March 29th at 6pm est. "We are once again thrilled to be partnered with the Pursuit Channel," says Team E Media President Pat Donnelly. "We received a ton of positive feedback from sponsors and fans from the first season on the Pursuit Channel. We hope it will be more of the same for the second season."
Also joining Team E Outdoors for a second straight season is title sponsor Bacc-Off. Bacc-Off is a non-nicotine healthy alternative to chewing tobacco, for those who wish to break the tobacco addiction. With its FDA approved ingredients, Bacc-Off features improved packing ability, realistic snuff-flavor taste, long-lasting flavor and even a slight "burn" like real tobacco. "Our first season with Bacc-Off proved successful for both Team E Outdoors and Bacc-Off," says Donnelly. "We hope to continue to build the Bacc-Off brand as well as the client base with Team E Outdoors."
Team E Outdoors takes the viewer on a high energy drama filled adventure that will leave you breathless and wanting more. Host Nicole Castro and Team E Outdoors pro staffers Gabe Jerome and Wayne Prejean will be back for season two. New this season is Capt. Rick Miick and the Reel Monsters Segment. Watch weekly as Capt. Rick Miick takes you on a journey to find record fish across the World. "Every show is full of action and with the addition of Capt Rick Miick and his passion for fishing, we ( Team E Outdoors Presented by Bacc-Off) will feature better shows for the viewer than ever before," says Donnelly. "If you love hunting, fishing and the outdoors you will not be disappointed."
Check with your local cable and satellite provider for the Pursuit Channel listing. Episodes can also be viewed at http://www.pursuitchannel.com. Pursuit Channel is available in 40 million homes across the United States.
Team E Outdoors Presented by Bacc-Off - is a copyright entity of Team E Media Inc. Team E Media Inc. located in Weedsport, NY, is a video production house specializing in the fields of motorsports and outdoor sports
DipStop™ Inc. was founded in 1991 by Russell Ralston to combat the critical health problems associated with smokeless tobacco addiction by helping users break the nicotine habit. Family owned and operated in Selma Alabama, DipStop is one of several business units dedicated to the development and introduction of innovative products created to improve the health and well-being of its global customer base. Initially offered in wintergreen, cinnamon, and mint flavors, BaccOff™ straight non-tobacco chew was introduced in 1993 as the first chewing tobacco alternative with the taste, texture, and *spitability of real tobacco snuff.
*spitability - The wherewithal to expel a reasonable amount of brownish liquid from between the lips with sufficient force to roll small bugs, stir up dust, and send dogs and cats running for cover.