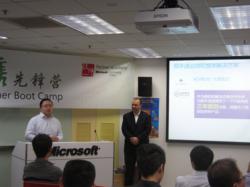 Milpitas, CA (PRWEB) March 28, 2012
The international and Bay Area IT service management specialist Achievo won the "Best Solution Sales Award FY12 for the Microsoft South China District" prize in the "Microsoft FY12 Sales Pioneer Camp." All Microsoft's partners and suppliers in South China were invited to attend this event and Achievo's "Three-Year IT Service Plan" solution won the top prize among all competitors.
This achievement is the result of an intense collaborative relationship to advance a special development effort for the Guangdong Telecom EIAC Project. The development work involved a number of technology platforms including Windows Server 2003, SQL Server 2005, SharePoint 2007, BizTalk Server 2006, OCS 2006, WorkflowServicesPlatform, .NET Framework 3.0, Windows Mobile, C#ASP.NET Ajax/Silverlight, and WCP/Web Service.
The goal is to establish unified enterprise information access through open access (OA) knowledge management portals, in a seamless manner. By making the solution compatible with old and new systems, the customer can continue to benefit from serial IT infrastructure investments made over time and helps the customer effectively support over 200 types of business approval processes, prevent operating silos, and enhance enterprise mission efficiencies.
Under the Microsoft Partner Boot Camp Program, Achievo successfully completed the Mindray integrated business process management platform utilized by over 6,000 users worldwide—a major goal of Microsoft's 5-year plan on technology-operations innovation.
As a Gold Partner for Microsoft, Achievo provides a distinguished solution support for Microsoft. The company works very closely with Microsoft to continuously enhance its core competitiveness. As a result, Achievo has gained its client's trust and credibility. Achievo continues to develop both the breadth and depth of business partnership with Microsoft to expand mutual cooperation going forward.
For more information about the Best Solution award, or for information about any of the leading global and Bay Area IT services provider's services, call (925) 452-6374 or visit http://www.achievo.com.
About Achievo
Achievo is a leading provider of information technology services and solutions for global clients. Its delivery centers are certified with world-class standards: ISO/IEC 27001, ISO 9001, and CMMi level 5. Headquartered in Silicon Valley, U.S.A., Achievo also has operations in Canada, China and Japan. The company's flexible service delivery approach adapts to each client's operating environment and project requirements, on a fixed-cost or time-and-material basis. Achievo's expertise includes IT service management, offshore development center, testing, mobile application development, IT resource support, IT testing, and IT staffing in the Bay Area and across the world.