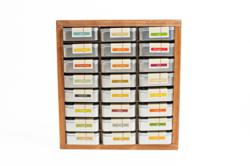 With 24 tins of tsp spices, this hand crafted spice rack is the perfect gift for food-loving friends.
Baltimore, MD (PRWEB) March 29, 2012
Just in time for Spring, TSP Spices, Inc. introduces the TSP Spice Rack, a handsome, handcrafted spice storage system that allows tsp spices' designer tins to look as great in the kitchen as the spices taste in food.
An award-winning spice company based in Baltimore, TSP Spices, Inc. packages organic spices, herbs and zests in convenient, pre-measured, teaspoon packets. The packets are housed in designer tins, which can be re-used with refills from tsp spices, re-purposed for other household uses, or recycled.
At 14" wide, 14 ½ inches high, and 2 ¾ inches deep, the rack has a small counter top footprint, and provides a stylish and convenient display of all 24 tins of tsp spices.
Available with tins for $170, the TSP Spice Rack is a welcome gift for any cook. For existing customers looking for handy counter top storage of their tsp tins, empty racks are available for $49.99 stained or $39.99 unstained.
Unlike kitchen spice racks designed to hold traditional spice bottles, this counter-top display does not expose spices to light, which causes spices to go stale more quickly. The airtight packets protect spices from light, air and moisture, the three enemies of spice flavor.
And because organic spices have no fillers or flow-agents, these packets contain nothing but pure flavor – which means that opening each packet of tsp spices is just like opening a brand new jar of traditionally packaged spice.
The goal of tsp spices is to bring "Spice Enlightenment" to kitchens everywhere by giving home cooks an easy way to use these ancient flavors that can turn an ordinary meal into a trip around the world.
Spices were probably the earliest example of international trade – and they are a good complement to the local food movement. TSP Spices, Inc. encourages families to "eat locally, but season globally." After all, it is much easier on the environment to ship spices around the world than to transport perishable vegetables and meat. With just a few teaspoons of global flavor, it is easy to support local foods while indulging global tastes.
The 24 spices, herbs and zests featured in the TSP Spice Rack represent the best of flavors from around the world. And tsp spices' unique packaging and storage system provides an easy and stylish solution the annoying kitchen problem of stale spices.
In these flavor-saving packets, spices retain their pure, organic flavors far longer than spices in traditional bottles or jars.
Packed in tins containing 12 teaspoon packets each, tsp spices offers 24 spices as well as combinations tins like Dinner Party, Dinner for Two and Roast to Toast.
For more information, visit http://www.tspspices.com.