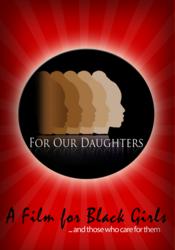 "I was so touched by the film. It's inspired me..."
(PRWEB) March 29, 2012
This weekend a documentary entitled For Our Daughters will be released on DVD. The film is being touted as the Blueprint for success for young Black women across America. Seventeen Black women from all walks of life were interviewed for this indelible piece which discusses topics that pertain to but are not exclusive to Black women.
Topics such as relationships, money, sexism, racism, color-ism, child molestation, history and identity, social capital, teen pregnancy, STI's- HIV/AIDS among other themes are talked about with personalized truths and an emboldening grace by these courageous women.
"I was so touched by the film. It's inspired me to want to go out and help some of our young women." Said, Tawana Williams, a Bronx, NY resident after a screening at the Bronx Museum last week.
When ordering the For Our Daughters DVD from this link: http://www.fodcreativesource.com/jrox/jrox.php?id=1013
$5 will be donated to The National Council of Negro Women, founded by Mary McLeod Bethune and lead by Dr. Dorothy Height for 40 years.