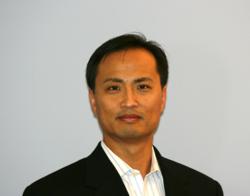 Fairfax, Va. (PRWEB) March 28, 2012
Force 3, delivering innovative data center, collaboration, networking and cyber security solutions, today announced that Jon Kim will be a featured speaker at GovSec – the Government Security Conference & Expo featuring the U.S. Law Enforcement Conference & Expo. Kim will present a session entitled, "Physical and IT Convergence: A Strategic Approach to Risk Management" on April 3, 2012 from 2:00-3:00 p.m.
Kim will discuss the benefits of implementing an organizational holistic approach to cybersecurity, and why covering both physical and IT resources are essential. He will provide participants with in depth information about where to start considering security convergence and share strategies and technologies that can be implemented to limit the amount of risk government agencies face.
Kim has 17 years of progressive leadership and consulting experience in information security solutions, strategic risk management and business decision support in both the private and public sectors. At Force 3, Kim manages a team of engineers to support the security needs of customers and their unique business requirements.
GovSec, which takes place April 2-4 at the Walter E. Washington Convention Center in Washington, D.C., provides attendees with the opportunity to hear from experts in law enforcement, physical security and cybersecurity during free keynote addresses and 36 conference sessions. The event also includes a free Expo, which can be attended at no cost for qualified individuals, where industry leading vendors will showcase new tools and technologies. The Expo also features additional free educational programming, including a series of Featured Presentations, delivered by professional organizations in the government security and law enforcement communities, which offer career development in a number of competencies; and Agency Briefings, where attendees can learn about homeland security and law enforcement programs they can use in their agencies and departments.
This year, as an added bonus, GovSec attendees also will be able to attend sessions at two co-located conferences: the Contingency Planning & Management Conference and Expo and the Network-Centric Security Conference and Exposition.
For more information about GovSec or to register, visit govsecinfo.com.
About Force 3
Force 3 is the trusted provider of Data Center, Communication and Collaboration, Borderless Networks and Cyber Security services for Federal agencies, Enterprise organizations and their key partners. With headquarters in Crofton, Md. and offices in Herndon, Va. and San Antonio, Texas, Force 3 has a 20-year history of delivering, supporting, and maintaining cost-effective IT products and services. At Force 3, we have a relentless focus on achieving our customers' end goal through innovation, unique solutions and highly trained, passionate people. Our dedication has resulted in being named one of Cisco's Top 5 Federal Gold Partners in America, as well as Federal Virtualization Partner of the Year in 2011. For more information, please visit http://www.force3.com.
About GovSec featuring U.S. Law Enforcement
Scheduled for April 2-4, 2012, at the Washington Convention Center in Washington, D.C., the Government Security Conference & Expo (GovSec), which is produced by the 1105 Event Group, takes a comprehensive approach to securing our nation and its critical infrastructure by addressing the convergence of physical security, cybersecurity and law enforcement. This combination provides security professionals and first responders with the necessary insights, tools and tactics to protect their communities and our nation. U.S. Law Enforcement at GovSec provides the newest tools, tactics and technologies for law enforcement on the federal, state and local level to protect their communities and critical infrastructure from domestic and international terrorism, and natural and accidental disasters, while serving as the first line of defense in homeland security and as a partner in terrorism investigations. For more information, visit .govsecinfo.com.
About 1105 Media
1105 Media is a leading provider of integrated information and media in targeted B-to-B markets, including specialized sectors of the information technology community; industrial health, safety and compliance; security; environmental protection; and home health care. 1105's offerings span print and online magazines, journals and newsletters; seminars, conferences and trade shows; training courseware; and Web-based services. 1105 Media is based in Chatsworth, Calif., with offices throughout the United States. Visit 1105media.com.
About the Security, Safety, and Environmental Protection Group
GovSec is a member of the Security, Safety, and Environmental Protection Group – a division of 1105 Media, Inc. Comprised of the Security Products, Occupational Health & Safety, and Environmental Protection brands, as well as events and ancillary products related to these brands, it is an industry leader in every category it includes.