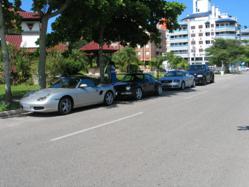 Andre Leite Alves brings you the 2014 soccer World Cup in Brazil.
Rochester, NY (PRWEB) March 28, 2012
Soccer fans around the world can take advantage of Andre Leite Alves 2014 Soccer World Cup packages in Brazil. These packages include all Brazilian hosting cities: Manaus, Fortaleza, Natal, Recife, Salvador, Brasilia, Curitiba, Porto Alegre, Rio de Janeiro, Sao Paulo, Belo Horizonte and Cuiaba.
Andre Leite Alves is the owner of Aware Bear Computers and a member of the Chamber of Commerce Board of Directors in Pittsford, New York. Andre Alves travels to South America in order to help the less fortunate and run several community projects sponsored by AwareBear Computers in Pittsford.
Andre Leite Alves is a Brazilian native from the city of Sao Paulo. Sao Paulo City has over 22 million residents and it is the third largest city in the world. Since 2010, Andre Leite Alves has been doing arrangements and partnerships with other soccer professionals in order to provide fans with the best service and price when it comes to watch and enjoy the 2014 Soccer World Cup.
Andre Alves reminds all soccer fans that Brazil requires a visa in order for non-Brazilian citizens in order to travel and enjoy the 2014 world cup. Before purchasing air tickets please make sure to call the nearest Brazilian Consulate in order to check the visa status. Many European and South American citizens may not need a visa in order to travel to Brazil.
The official spoken language in Brazil is Portuguese and not Spanish, both languages are very different. Brazilians do not to understand Spanish very well. Andre Leite Alves reminds all 2014 World Cup soccer fanatics to hire a native Brazilian Portuguese speaker when visiting Brazil.
Brazil will be hosting the 2016 Olympics; anyone looking for a place to invest money should consider the Brazilian real estate market. According to the Wall Street Journal, the Brazilian economy should grow at a steady pace till 2020.
Any questions please contact Andre Leite Alves by visiting http://andreleitealves.com or by calling 585. 473.7035.
http:// http://www.andreleitealves.com/andrealves/andre-leite-alves-2014-world-cup-soccer-brazil/