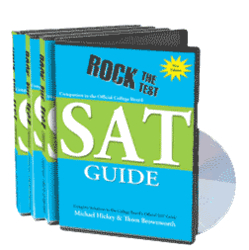 Improve your SAT scores dramatically with 40+ hours of one-on-one coaching videos with master coach Michael Hickey
New York, NY (PRWEB) March 28, 2012
Michael Hickey, who has been teaching and coaching students on the SAT for a quarter of a century, has released 40+ hours of videos that walk students through the solutions to the College Board's Official Guide to the SAT.
The average increase in SAT scores for those who go through the Rock the Test program is 240 points with many increasing over 300 points. Needless to say, this leads to many students getting into their first choice college or university and receiving tens of thousands of dollars in financial aid.
It's the time of year that high school seniors are finding out where they will be spending the next two to four years of their educational lives. Within the next two weeks colleges and universities will be sending out acceptance or rejection letters.
A student's acceptance to college often depends on his/her SAT scores. Yes, GPA and extra-curriculars and recommendation letters have an impact. But the fact is that most competitive colleges and universities use the SAT as their primary filter.
The Rock the Test website features two free introductory videos, and Michael Hickey is available for questions or comments.
Michael Hickey is in his 25th year of teaching at The Stony Brook School, one of the most prestigious college prep schools in the nation. He teaches AP Biology and Physics and is the SAT tutor for the school. Over the years he has tutored hundreds of students in preparation for the SAT. In 1980, Michael graduated from the United States Merchant Marine Academy at Kings Point. He works and lives in Stony Brook, NY.
Blooming Twig Books, an independent publisher based in New York City and Tulsa, Oklahoma, publishes award-winning books that matter, from self-help to children's fiction. Contact the publicity department for author bookings, sample and adoption copies.