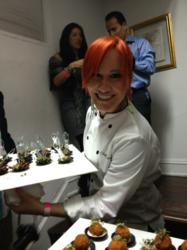 Miami, FL (PRWEB) March 28, 2012
The contradiction that drives Chef Adrianne Calvo.
It is almost impossible not to see what Chef Adrianne's Vineyard Restaurant and Wine Bar located in Miami is doing in the glitzy culinary world. They have gone from Food Network's South Beach Food and Wine Festival, to Dali Miami, to Miami Beach International Fashion Week, and all from a very humble beginning or you would say, humble location. For some, the restaurant's location is defiant- while others think it's clever. We are guessing that the vibrant young chef would say, "Some just don't get it." Chef Adrianne's Vineyard Restaurant and Wine Bar, a haven of culinary finesse very much intentionally positioned in the "wrong place," has won the acclaim of its patrons and critics alike but not thanks to its location. Nestled in the suburbs of West Kendall far from the sparkling bustle of Miami's trendy areas, in a dressed down shopping strip, sits a little piece of Napa Valley serving up Michelin star quality food. Chef Adrianne Calvo, crediting her mentor Thomas Keller for teaching her the fundamental principle for having a successful restaurant, "Chef Keller taught me that if you truly make a good product, people will come, and they will tell other people to come. They won't walk through your door because you're next to a movie theatre or in a trendy place. If they come to your restaurant that's placed where it shouldn't be, that means they're going for your food- not because it was convenient or cool. And that is a testament to your career." But this hipster chef is taking the food world to new heights with her conviction of an industry contradiction- location! location! location! And with her gifted culinary mind that reaches far beyond quenelles, clean lines and sliced proteins. " I wanted to create something real, far from the gravitational chic of South Beach." Chef Adrianne's Vineyard Restaurant and Wine Bar has become the outpost for all things delicious and the enclave of nearly orgasmic culinary creativity. Calvo keeps herself very busy with different activities besides the daily operation of her restaurant. She is the host Thursday mornings on her very own segment on NBC6's Live Miami, Maximum Flavor Live. After a great response from her fans, Adrianne's segment has crossed over to the Hispanic market. Maximum Flavor Live now airs every Friday morning as "Sabor Maximo" on Univision. In addition, Maximum Flavor Live airs simultaneous on Miami local ClearChannel stations such as 93.9 fm MIA. Adrianne has become the youngest female chef to air on both American and Hispanic markets, on television as well as radio.
Chef Adrianne's is located at 11510 SW 147 Avenue Miami, Fl 33196 for reservations please call (305) 408-8386 or (305) 408-8388 and follow Chef Adrianne Calvo on Twitter or Facebook.
Restaurant: http://www.chefadriannes.com/?page_id=13
Facebook: http://www.facebook.com/chefadrianne
Twitter: http://twitter.com/#!/ChefAdrianne