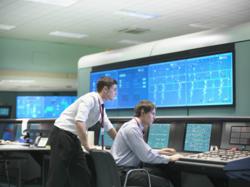 AccessNsite coupled with our innovative command center voice communications technology provides a new level of enterprise safety and security management.
Santa Maria, California (PRWEB) March 28, 2012
Quintron Systems, Inc. (http://www.quintron.com), the recognized leader in interoperable Enterprise-Class Systems for Security Command, Control & Communications, is pleased to announce the integration of its AccessNsite® interoperable security management solution with the company's unique voice communications technology to form a new UC3 Unified Command, Control & Communications solution for Emergency, Safety, and Security Operations Centers. "AccessNsite coupled with our innovative command center voice communications technology provides a new level of enterprise safety and security management," said Rick Foster, director, marketing & sales, Security Systems Division. The UC3 family of products can be operated as independent solutions for communications only, or command and control only, or as an integrated management suite as required by the application.
The Quintron UC3 management suite provides unified access control, alarm monitoring, secure credential management, video surveillance, and live voice communications. This mission critical system enables users to participate in live command and control conferences in real-time from anywhere in the world regardless of the voice system, media, or technology at their disposal, including their workstation or laptop computers, cell phones, satellite phones, land lines, PBX extensions, radios of any type and on any frequency, and more. Quintron's AccessNsite integrated security management platform provides operators in security and safety operations centers the information necessary to evaluate unauthorized facility access and alarm events and other types of sensor triggers. With instantaneous, live command and control communications, efficiency and response times to these events and other types of conditions in a controlled facility are tremendously improved.
When UC3 is deployed, the command center operator is automatically connected to designated incident responders through optional settings in the system configuration. Responders can pick up an incoming command conference call, be auto switched onto the call from an existing call as it is terminated by the system and event type, or be notified by SMS or other messaging method to click or dial into the conference within a limited time period so that the incident commander can direct the appropriate response. No matter how capable the monitoring and control system may be, effective response to alarms, events, medical, natural, man-made emergencies or disasters is crippled without rapid, real-time, interoperable voice communications. Command conferences can be preprogrammed or ad hoc. The command center operator simply presses an icon or button on their touch screen to manually initiate a command conference or interconnect incoming and outgoing callers into an ad hoc conference in order to coordinate the response.
Nearly all current enterprise-class security monitoring and control systems fall short when it comes to live voice communications for situational response. "No matter how capable the monitoring, control, and display capability of a system is, the response force is blind without real-time live voice communications that direct their response to the actual conditions detected by the control system or as seen by a independent observer," says Foster. Many types of critical events, such as work site or school site violence, rely on first hand live communication for successful management. "No one provides the level of situational management as does Quintron, no one," points out Foster.
The UC3 management solution is a Java-based application suite that is built on a modular, object-oriented design, providing unlimited system scalability, flexibility, and reliability. The software supports real-time mission critical situational management for small, medium, or large enterprises at one location, a campus, or many networked sites worldwide.
For more information about Quintron solutions and services call 805.928.4343 or visit http://www.quintron.com.
About Quintron
For over 42 years, Quintron has provided high technology and cost effective solutions worldwide to government and industry in support of mission critical communications and security requirements for command and control applications. No other company offers the depth of expertise found at Quintron in fault tolerant, interoperable communications, and security systems. In addition to providing advanced products and systems, Quintron's professional technical services capability provides a superior level of customer satisfaction. Quintron's engineering services provide off-the-shelf or customized engineering solutions to solve the toughest of challenges facing customers. Visit http://www.quintron.com or call 805.928.4343 for more information.
The Quintron Logo and AccessNsite are registered trademarks, and UC3 is a trademark of Quintron Systems, Inc.
All other trademarks in this release are the property of their respective owners.