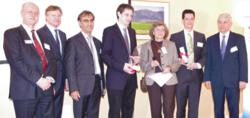 Photonics is an area where Europe enjoys a leading role in global science, but this advantage must be used to meet future societal challenges
Brussels, Belgium (PRWEB) March 28, 2012
The vital importance of photonics innovation for the European economy and the region's continuing technology leadership role was a dominant theme at the Photonics21 Annual Meeting in Brussels this week. Underscoring that theme at the opening ceremony Tuesday evening (27 March) was the presentation of Photonics21 Student Innovation Awards, sponsored by SPIE Europe, Fraunhofer Heinrich Hertz Institute, and the European Commission Seventh Framework Programme. The awards recognize excellence in industrial-related photonics research in Europe.
Photonics21 President Martin Goetzeler, Osram, welcomed the more than 300 photonics experts from industry, academia, and politics attending the Annual Meeting. Photonics21 Executive Board Member Roberta Ramponi, Politecnico di Milano, joined Goetzeler in congratulating the award winners.
Thomas Geernaert, Vrije Universiteit Brussel, and Bernhard Schrenk, National Technical University of Athens, each won € 2500, a trophy, a certificate, and support to attend SPIE Photonics Europe in Brussels 16-19 April.
At a Board of Stakeholders meeting earlier on Tuesday, Goetzeler had reiterated an announcement made last week that he is leaving Osram and said he is resigning as Photonics21 President.
"Martin led Photonics21 with purpose and skill and helped build the considerable success of Photonics21. Under his leadership photonics was identified as one of five 'key enabling technologies' by the EU. SPIE's membership is grateful for Martin's contributions to recognition of photonics in the EU and the related support," said SPIE CEO Eugene Arthurs, who is a member of the Photonics21 Board of Stakeholders.
The future development towards a public-private partnership for photonics was the main focus of general sessions and work group meetings on Wednesday, starting with an update on the framework programme Horizon 2020 by Goetzeler.
The new partnership will need to address Europe's lagging position in transfer of photonic innovations into sustainable production, Malcolm Harbour, Member of the European Parliament, had noted in a recent article in "The Parliament" magazine.
"Photonics is an area where Europe enjoys a leading role in global science, but this advantage must be used to meet future societal challenges," Harbour said. The field has "huge untapped potential to solve problems across a wide range of industrial sectors and public services."
Harbour participated in a panel discussion on Wednesday on accelerating innovation in Europe. Also on the panel were Goetzeler; Zoran Stančič, Deputy Director-General of EC Directorate-General Information Society and Media; and Giorgio Anania, CEO of HelioDel and a member of the EC High-Level Expert Group on Key Enabling Technologies. See the full programme online.
The keynote speech was given by Neelie Kroes, Vice President of the European Commission, who earlier called the Photonics21 meeting a milestone event in the establishment of the Horizon 2020 programme.
Amrita Prasad, CEO of EYESTvzw and co-developer of the Photonics Explorer kit, was among other speakers on Wednesday. The intra-curricula kit will contain a class-set of components for hands-on experiments together with an inquiry-based didactic framework for secondary schools, providing up-to-date materials on topics related to light and its technical use.
Teachers and scientists in pedagogy have teamed up with experts in photonics to develop the Photonics Explorer. The program is coordinated at the Vrije Universiteit Brussel under the supervision of Hugo Thienpont. Several universities are partners, and associations such as SPIE Europe are sponsors, along with several corporations.
The Photonics Explorer program is aiming to reach 10,000 students, and the not-for-profit organisation is seeking additional sponsors to support the work. See the website for more information: http://www.photonicsexplorer.eu.
Photonics21 is a voluntary association of industrial enterprises and other stakeholders in photonics. In addition to Arthurs, other Photonics21 members representing SPIE at the Annual Meeting were Director Peter Hartmann of SCHOTT AG, Past President María Yzuel of the Universitat Autònoma de Barcelona, SPIE Europe Manager Karin Burger, Industry and Market Strategist Steve Anderson, and CFO Brad Ferguson.
About SPIE
SPIE is the international society for optics and photonics, a not-for-profit organization founded in 1955 to advance light-based technologies. The Society serves nearly 225,000 constituents from approximately 150 countries, offering conferences, continuing education, books, journals, and a digital library in support of interdisciplinary information exchange, professional growth, and patent precedent. SPIE provided over $2.5 million in support of education and outreach programs in 2011.