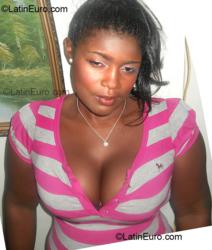 Latin women are the sexist women and they show it
Miami, Florida (PRWEB) March 28, 2012
For 23 years http://www.LatinEuro.com has featured 1000's of beautiful and sexy women from Colombia, Dominican Republic and Brazil. Now the dating site has an added bonus of visual appeal. Big Breasts !
Historically, Latin American women were lacking that in area. LatinEuro has data supports this with photographs years of dating photos.
Five years ago few had big breasts. Now many do. Additionally, they love to flaunt them in the sexy way they dress and they send in very provocative dating photos.
As the great advertising executive George Lois said. "If you got it. Flaunt it, "comments Vania Santos, of LatinEuro.com
Large breasted Latin females are popping up all over the net and especially on LatinEuro.com
This is due to growth inexpensive and quality plastic surgery that is now available to even young women of very modest means and in remote places. Even a girl in small town such as La Vega, in the Dominican Republic can get breast augmentation and look super sexy.
American women have been going to foreign countries for cheep plastic surgery or Medical Tourism but the Latineuro.com survey surprisingly show locals are now using it en mass as well.
This instantly makes them the most popular girls on the site.
For the 1st time, a definitive study has shown a direct correlation between breast size and the amount of male interest in a dating site. Those results are predictable and measurable according to the Latineuro.com breast augmentation study.
A "C" cup on Latineuro.com equates to about 2000 visitors a day. A "D" cup or larger increases profile views by staggering amount 10,000 visitors and more. In many cases, those females with breast implants are then added to the male's favorite section.
Where on a regular basis a male dating site member, can go to review bountiful gifts that can be available to him if he orders her profile.
Latineuro.com then determines the amount of viewership and accordingly places them in the Busty section which is the most looked at and most popular section.
Steve Billings, a LatinEuro junkie for years, states, " I go to my big boob favorites section 5 times a day."
The Latin female body shape of big butt, flat stomach and large breast are driving men crazy and forcing men fly to foreign counties for dates, relationships and marriage. These men are fleeing the trend that they find in the USA and Europe where women who have thin waists and no boobs .
Good and cheap breast implants in Latin America has a now made Latin women some of the sexiest on earth.
"Plastic Surgery is good for dating success and you will get more responses if you have large breasts. Just go to our big boobs section. That is where you will find the most the most desirable female profiles, states Vania Santos".
LatinEuro.com has pioneered international dating for the last 22 years and is one of the world's most famous and oldest dating sites. It has people from all over the world and the USA but specializes in Latin culture. Contact Vania Santos at: 1-305-858-7766 or vania(at)latineuro(dot)com, http://www.LatinEuro.com, 444 Brickell Avenue, Suite 51-517, Miami, Florida 33131 USA.