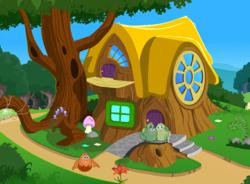 We want to teach children effective ways to handle sibling rivalry and develop dispute resolution skills.
Vancouver, Canada (PRWEB) March 28, 2012
Cackleberries Entertainment Inc. announces the opening of a new character house in Oville, a virtual world for children aged three to seven. The theme of the new house—inhabited by six-year-old twin Cackleberries named Cracker and Shellbee—is getting along despite differences. Cracker, the male character, is loud and messy while his twin sister, Shellbee, is quiet and highly organized.
The two characters are forced to share a home, and they cope by being responsible for their own side of the house which is divided in two by a white line. Eronne Foster, CEO, said that the purpose of the "white line" approach to sibling conflict is to show that even though family members can be radically different, they can still learn to co-exist peacefully.
"We want to teach children effective ways to handle sibling rivalry and develop dispute resolution skills," said Foster. "Every character house in Oville emulates real world personalities and shows children positive ways to cope with individual differences, even annoying ones like a brother who is always burping the alphabet or passing gas."
Aside from body odours, the characters are radically different and this is reflected in the activities available in the house. When children click to enter Cracker and Shellbee's house they can play a variety of games on each side. On Cracker's side there is a "find the hidden objects game" called Cracker's Cleanup. By contrast, Shellbee's side of the room has a recycling game called Recycle Rush.
In Recycle Rush, children are taught the basics of recycling. They sort items into bins that include compost, paper, glass, plastic and metal while listening to polka music. This is the first of several activities which will make up the environmental awareness program that will become an integral part of Oville.
Children who play games in this new Cackleberries house will learn basic organization skills that will help them at school and throughout their lives. To sign up for a one-month membership to Cackleberries, please go to http://www.cackleberries.com.
ABOUT CACKLEBERRIES
Cackleberries is a children's edutainment (entertainment and education) company offering a website, animation, toys, games, music and more. Most importantly Cackleberries introduces young children, aged three to seven, to online education with a dedication to keeping them safe. Cackleberries protects children from the internet with the latest technology, provides family-friendly content, and never advertises to children. The living virtual world of Oville is a place for children to learn and play in a guaranteed safe environment.