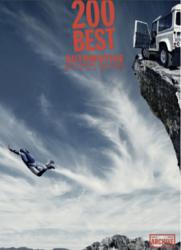 (PRWEB UK) 29 March 2012
The new special showcases the best automotive print campaigns and TV spots to have appeared in the Lürzer's Archvie Magazine over the past decade, classified by individual categories within this segment.
Lürzer's Archive – Ads & Commercials worldwide, the leading magazine for creatives, is published six times a year and read by more than 150,000 advertising professionals in over 70 countries throughout the world.
Since 1998, Lürzer's Archive has also been producing "Lürzer's Archive Specials" such as "Advertising Photography" or "Commercial Illustration."
Launched in 2004, the "200 Best" series has thus far featured four issues of "200 Best Photographers" and "200 Best Illustrators."
The first "200 Best Packaging Design" volume – published in spring of 2009 – was the next successful addition to the range, making "200 Best Automotive" the fourth product in the "200 Best" series.
"I am very excited to be on the cover! It has always been a goal I have wished to achieve with my work. And to be on the Automotive Issue is more rewarding to me, as I learned how to shoot photography from some of the worlds top automotive photographers."
Bryan Traylor, Locker 14, Films and Photography
For the very first time, the TV spots in the volume come with a QR code enabling them to be played on an iPhone or iPad.
A further new aspect of "200 Best Automotive 2000–2010" is the fact that Lürzer's Archive is, with this latest volume, targeting not only top creatives but also leading automotive industry decision-makers.
Numbering 250 pages, the special upholds the exceptionally high quality standards to which readers of Lürzer's Archive products have become accustomed and costs €29.50