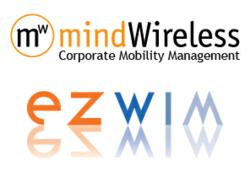 Amsterdam, The Netherlands (PRWEB) March 28, 2012
Today's competitive global economy requires all company employees to be empowered and supported technology users. Ezwim and mindWireless share a strong focus on managed mobility services.
"The partnership will provide new and existing mindWireless clients with local representation and knowledge to drive managed mobility services initiatives globally", says Bram Cool, General Manager of Ezwim. "Furthermore, mindWireless and Ezwim share a clear vision of the market in which we both operate and how to respond to the global megatrends influencing our customers' businesses, such as IT consumerization and the war for talent."
"Encouraged by our customers, we have been seeking the right partner to further our global capabilities" says mindWireless co-founder and co-CEO, David Wise. "The partnership with Ezwim not only delivers the desired global capability to our customers, but also adds invaluable experience, including knowledge of local business culture and government regulations."
About Ezwim
Headquartered in Amsterdam, The Netherlands, Ezwim is a leader in telecom management services for enterprises and operators. Ezwim's Telecom Management Suite, available at http://www.ezwim.com, offers a complete portfolio of telecom management applications that enable global organizations to gain visibility into, and control over, their mobile and fixed communications assets and costs. Ezwim helps companies to deal with global trends such as the Consumerization of IT and to compete in the War for Talent in the labor market, while managing or reducing telecom costs, realizing process efficiencies and developing future proof telecom strategies.Ezwim empowers customers to implement their telecom innovation strategies easily, globally and independently. Ezwim maintains a market leader position by delivering end user centric intuitive technology and services. For more information, please visit http://www.ezwim.com.
About mindWireless
mindWireless helps Fortune 1000 companies manage wireless devices and usage through technology and outsourcing solutions. Founded in 2000, mindWireless solutions address the complete lifecycle of enterprise wireless management including procurement, help desk, invoice management, inventory, rate plan optimization and bill payment. For more information, visit http://www.mindwireless.com.
For More Information
James Cusdin
jcusdin(at)ezwim(dot)com
+31 631743040
http://www.ezwim.com
Beth S. Miller
bethmiller(at)mindwireless(dot)com
+1 832.282.2423
http://www.mindwireless.com