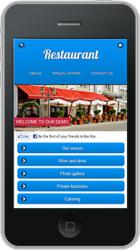 Traditional websites aren't built with the small screen in mind leading to lots of rotating and pinching.
(PRWEB UK) 30 March 2012
Nowadays, it's imperative for any restaurant business to have an online presence but with the recent take up and use of smartphones and tablets it's equally important to provide a fast, informative mobile solution for prospective visitors while they are on the move. Mobile websites are a great marketing and advertising platform that shouldn't be overlooked for any business.
Many restaurants already provide a desktop brochure website to showcase their menu, let visitors view photos and inform them about the restaurant's function rooms, catering, opening times and special offers. However, traditional websites aren't built with the small screen in mind leading to lots of rotating and pinching.
With most of the UK's smartphone owners also using their devices at home, it has now become imperative for any restaurant to offer a comprehensive, dedicated mobile solution.
All of Internet Buff's mobile web design packages come with email form functionality, 'click to call' buttons and an easy to use content management system allowing restaurants to showcase their menu, restaurant and bar, function rooms and special offers via a simple screen touch. Restaurants can upload photos of their restaurant and cuisine to a dedicated gallery. A link to Google Maps helps visitors find the restaurant quickly and visitors can share their experience after their meal using social networks such as Facebook and Twitter.
All packages come with free hosting and a dedicated content management system so restaurants can update text, photo galleries and pricing anytime and from any web browser.
So, whether they are at home or on the move, restaurants can now give their customers a stunning mobile experience.
Internet Buff produce professional website design with user-friendly navigation and efficient layouts, designed for desktop, tablet and mobile devices. Their web designer service supports start-up and small businesses across the UK and beyond.