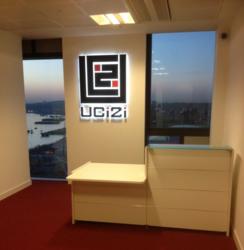 We've got some gob- smacking partner & client news that we'll be announcing at our April launch
London, UK (PRWEB UK) 29 March 2012
In a recent interview, Adrian Heywood, who heads up Marketing and Communications for the Group, said, "We are really excited about what's unfolding here; at our launch next month, we will be show-casing our plans and purposes for the global business, with a simultaneous kick-off both here and Hong Kong."
UCi2i claims that the market has been waiting for what they offer; a pure managed services business that specialises in video communications. Mr Heywood continued "Since we only - ever - operate through channel partners, our distributors and resellers are already telling us that they love what we're doing; they are tired of competing against their existing providers. We give them the tools, techniques and strategies they need to grow their businesses - serving this hugely exciting industry - in a way that compliments and supports them. It's the perfect marriage!"
Responding to a question about timing and clients, Heywood finished by saying "Well, officially - and obviously - we're not even out of the blocks yet, but, unofficially, we've got some gob-smacking partner & client news that we'll be announcing at our April launch. I could tell you more, but I'd have to kill you."
I think I'll just wait for an invite.
About UCi2i
UCi2i is - globally - defining a new class of managed video service provider; the Video Carrier. As a dedicated service-provider for business-class video collaboration, UCi2i is the first MVSP to remain proactively independent of technology vendors.
UCi2i's video network enables users to connect with each other intuitively, through a variety of cost-effective service plans - agnostic of users end-point technologies and without need for the significant additional infrastructure investment, which until now has remained the greatest barrier to user-adoption. UCi2i is a dedicated service provider and does not sell video collaboration hardware. This approach enables resellers of all video conferencing hardware vendors to immediately de-mystify video collaboration sales by simply - and yet powerfully - blending UCi2i's comprehensive service offerings with their end-point sales.
More information is available on the UCi2i interim web site, prior to the full launch, at http://www.uci2i.com