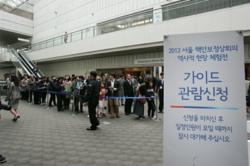 5,500 non-presidential delegates, 4,500 members of the press, and a force of 40,000 police, military, and private security services attended the summit.
Seoul, South Korea (PRWEB) March 29, 2012
Coex Convention Center, venue for this week's Nuclear Security Summit, opened its halls to the public on Wednesday for a one-day exhibition of the summit hall that housed nearly 60 world leaders only a day before.
The Seoul Nuclear Security Summit was the largest nuclear security gathering to date, with the heads of 53 countries and 4 international organizations in attendance. In addition, 5,500 non-presidential delegates and 4,500 members of the press also attended the summit for a total of 10,000 guests from abroad.
A force of 40,000 police, military, and private security services patrolled the venue and surrounding areas on Monday and Tuesday during the summit. Streets and shops around the venue were closed for two full days to ensure the safety of the delegates and attendees.
Wednesday's summit hall exhibition marked the first time public guests were allowed in Coex's normally busy meeting facilities in several weeks. A mock summit featuring students from local universities was staged on Wednesday morning, and the center offered both guided tours and open exploration during the rest of the day. Over 4,600 guests came to the hall to take pictures and explore summit rooms where the presidents of the world's largest economies had worked.
The summit was Korea's second major gathering of heads of state in as many years. In November of 2010, Coex hosted the G20 Seoul Summit with 27 world leaders in attendance. Though G20 Seoul was highlighted by a more elaborate promotional campaign for Korea's growing global prominence, the Nuclear Security Summit was twice as large as its predecessor in terms of international participation.
Director General Youngju Oh of the summit's Planning and Protocol Bureau said of the summit planning process: "By hosting the G20 Seoul Summit in 2010, Coex had already received global accolades for its meeting facilities, cutting-edge IT infrastructure, and supporting services… With the knowledge accumulated during that time, we were able to host this year's Nuclear Security Summit without any difficulty."
Coex was Korea's first convention center and remains its busiest, hosting over 2,000 meetings and 180 exhibitions each year.
Further Information
Coex Homepage http://www.coex.co.kr/eng
Seoul Nuclear Security Summit Homepage http://www.thenuclearsecuritysummit.org
Coex on Facebook http://www.facebook.com/coexkorea
Seoul Nuclear Security Summit on Facebook http://www.facebook.com/2012SeoulNSS