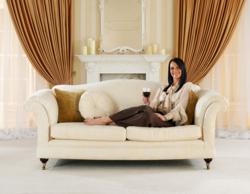 The renewed 'Bespoke' collection comprises 12 fabrics in 35 colourways, including stain resistant fabric!
(PRWEB UK) 30 March 2012
The aim of the new collection is to cater for the affluent customer who is looking for the highest quality in current British fabrics. The 'Bespoke' collection has fabrics available for loose covers, re-upholstery and curtains.
At the centre of the re-launch is new revolutionary fabric 'Belgravia Garden', complete with technology to repel spillages and stains. Marketed as making stains a thing of the past, the new fabric is treated with a Ruco-Guard coating conferring resistance to aqueous and oily substances. The innovative coating discourages spillages and stains from being absorbed into the fabric, leaving it resting on the surface to be easily wiped clean. Ruco-Guard EPF 1970 claims to have good durability and it's repellent quality will be unaffected by domestic washing.
Laura Calvert, Mechandise Manager for Plumbs explains more: "We are really excited about the addition of this cutting edge fabric into our range for loose covers and re-upholstery. It's great to be able to offer a beautiful fabric with such practical properties. 'Belgravia Garden' will be the perfect choice particularly for families with small children who are prone to spills."
'Belgravia Garden' makes up just one of the 12 fabrics available in the renewed 'Bespoke' range. Joining it as part of the luxury collection is a range of plain, stripe and floral designs in 35 colourways. The collection includes brand new fabrics such as the elegant 'Chenille Velvet Stripe', and old favourites like bestseller 'Titian Damask'.
Other fabrics include Ross Fabrics' 'Royal Scroll', an embossed chenille effect and 'Fairmont Diamond', a detailed mini woven design, both available in 6 traditional colourways.
The range is now available nationwide and has been well received.
About Plumbs:
Plumbs have around 150 Home Consultants who will visit homes free of charge. The Home Consultants can recommend an appropriate loose covers solution and advise on room colour co-ordination and any other home furnishings such as upholstery, loose covers for sofas, cushion covers and curtains.
Plumbs have over 350 different upholstery fabric designs and colours to choose from, and a range of materials to suit any piece of furniture.
For further information please contact: Hannah Jones on 01772 838 301 or email hjones(at)plumbs(dot)co(dot)uk