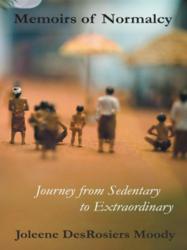 Pulaski, NY (PRWEB) March 29, 2012
The new "Memoirs of Normalcy: Journey from Sedentary to Extraordinary" (published by Balboa Press) guides readers from fear and self-doubt to a place where they can accept who they are and go after their deepest passions and desires. After struggling with an eating disorder, addiction and working for years at a job she didn't enjoy, DesRosiers Moody discovered the secret of change after the death of her mother. She shares that secret with her readers. Her openness and honesty invites readers to find the courage to come forward and release their own demons.
"We live in a world where we don't listen to our own self," DesRosiers Moody writes. "Instead, we listen to everyone else around us say, 'You can't do that,' or 'That's just not possible. Forget about it.' Because we listen, we become stuck and afraid. We give up our dreams. 'Memoirs of Normalcy' reminds us that we no longer have to be concerned with the acceptance or approval of the world."
An excerpt from "Memoirs of Normalcy:"
"No one else knows what you were put on this earth to accomplish except for you. Having said that, keep one thing in mind and shove it to the forefront every time you meet resistance: regardless of the change you want to make, how you want to make it and why, you will almost always, unequivocally, meet the disapproval of others. Somebody, somewhere, will give you reasons why you shouldn't leave your current job or end a tumultuous relationship. They will tell you that spending your inheritance to write a novel or take a summer off to live in England is insane. They will assure you that running for office is a waste of time and energy, and how selfish can you be, anyway? They will foo-foo your idea to adopt a child from a third world country while making it very clear they disagree with your decision to give away half your furniture to the family that recently lost their house in a fire. They will tell you that you can't. Interestingly enough, in the words of Wayne Dyer, the fact that they tell you that you can't is their limitation. Not yours. So go for it. That's what I say."
DesRosiers Moody's goal with her new book is simple, yet provocative. "We all want to experience absolute fulfillment and happiness. But how do we get there?" She believes that everyone is "… holding back from doing something spectacular – and this book is the key to moving forward."
About the Author
Joleene DesRosiers Moody is a former central New York television reporter turned transformational speaker and author. DesRosiers Moody made the decision to change careers after realizing she wasn't living to her fullest potential. Her days consisted of a series of mundane, unhappy scenarios, brought on by poor choices and self-loathing. After the death of her mother she knew she had to find a way to live better and love more. That decision brought her to where she is today – a place where she can help others find their true calling while learning to love themselves exactly as they are.
DesRosiers Moody lives in snowy upstate New York with her husband and daughter. Find her at http://www.joleenespeaks.com.
Balboa Press, a division Hay House, Inc. – a leading provider in publishing products that specialize in self-help and the mind, body, and spirit genres. Through an alliance with indie book publishing leader Author Solutions, Inc., authors benefit from the leadership of Hay House Publishing and the speed-to-market advantages the self-publishing model. For more information, visit balboapress.com. To start publishing your book with Balboa Press, call 877-407-4847 today. For the latest, follow @balboapress on Twitter.