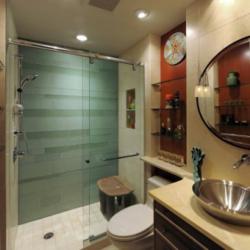 We take great pride in being personally very involved in every stage of our projects.
Falls Church, VA (PRWEB) March 29, 2012
"We are very pleased and honored to receive this award from Houzz.com. It is one more validation of the exceptional quality of our work. We take great pride in being personally very involved in every stage of our projects – from initial consultation and design to successful completion when our clients – and our own – expectations are exceeded. Our projects are always a true collaboration with the clients. We are known not only for our unique and highly functional design solutions, but also for our high quality workmanship, frequently executing design elements that demand inventive applications. We are proud to be recognized by Houzz.com as their award recognizes the importance of great design." – stated Ms. Doychinov upon hearing of this recent accolade.
Design Studio International Kitchen & Bath, LLC and its principal designer Savena Doychinov know that the costliest and most complex areas of home remodeling involves Kitchens and Bathrooms and they strive consistently to make the best possible use of these spaces through innovative, timeless design. Their finely tuned focus on creative and highly personalized design solutions for all of their clients, relentless attention to detail and high quality craftsmanship ensure the success of the remodeled kitchens and baths, giving the homeowners many years of enjoyment and the best return on investment Many satisfied homeowners in the DC Metro area can attest to that, including the homeowner whose bathroom redesign won the Houzz's award.
Houzz.com is the largest website that brings together designers, architects and remodelers with their clients by posting photos of the professionals' work. Prospective clients can view the posted projects and contact directly the professionals whose designs appeal to them. It has become tremendously popular platform with more than 1.2 million members worldwide and 3.5 million unique visitors monthly. The winning bathroom design can be found on the Savena Doychinov, CKD/Design Studio International Houzz.com profile.
For more information on the award winning designer Savena Doychinov, CKD and her Design Studio International Kitchen & Bath, LLC team and to see more of their work, visit their website http://www.customkitchenandbathdesign.com. Many of the projects the company has completed in the DC Metro area, including Arlington, Great Falls, McLean, Falls Church, Oakton, Bethesda, Chevy Chase, Potomac, Washington, DC, Carmel, CA, Fort Myers, FL and Mackinac Island, MI are shown there. Especially informative and impressive is the Before and After kitchen and bathroom section, showing dramatic transformations
Additional photo images and information can be found on Savena Doychinov's Facebook and LinkedIn profiles. Ms. Doychinov can be reached by phone at 703-821-7399 for more information and to schedule a complimentary in-home consultation. She is also available for educational seminars.