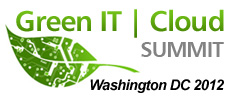 This is a very exciting time for GreenIT believers to see how much we have progressed and achieved. The awards will be given on April 18, 2012 at the Green IT & Cloud Computing Summit 2012.
Herndon, VA (PRWEB) March 29, 2012
The Green IT Council is proud to announce another year of GreenIT Award presentation. The purpose of Green IT Awards is to innovate companies that are energy efficient in selected areas. Every year the Green IT Council tries to reward the companies and organizations who are trying to improve the environment's, sustainability, and performance of Information Technology. To maintain the goals of the council, the awards are based on energy efficient computing from the desktop to the datacenter, from hardware to software, and from the network to the virtual cloud.
The awards categories are as follows:

Cloud Computing
Data Center Innovation
Desktop Virtualization
Energy Management
Energy Efficient Hardware
Telework
This is a very exciting time for GreenIT believers to see how much we have progressed and achieved. The awards will be given on April 18, 2012 at the Green IT & Cloud Computing Summit 2012.
The summit is a great opportunity for partners, clients, customers, and industries professionals to brainstorm and discuss leading edge information technology.
There will be ten exciting speakers from the private and public sector, that will challenge our view on GreenIT and the future.
About the Green IT Council
The Green IT Council is a non-profit initiative started by leading experts in the IT Industry. The purpose of the Green IT Council is to educate IT professionals, managers, and government on the need for eco-friendly technology. The council works with leading experts to determine a standard for Eco-friendly technology, and the true environmental impact. It recognizes and awards companies showing a forward thinking view of technology and its environmental impact. http://www.greenitsummit.org
Media Contact:
Shirin Chase – Director of Conference
schase(at)greenITcouncil(dot)org
2553 Dulles View Drive Suite #240
Herndon, VA 2017
703-539-0471