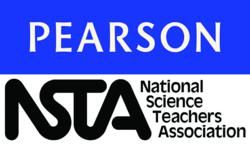 INDIANAPOLIS (PRWEB) March 29, 2012
Educators attending the National Science Teachers Association (NSTA) national conference here March 29- April 1 will see first-hand the interactive brilliance of Pearson's high school science textbooks reimagined for iPad and hundreds of other digital learning programs. At this annual meeting, attended by more than 10,000 science educators, Pearson's expert authors will present 19 workshops and sessions on topics ranging from embracing technology to enhancing learning in the classroom and teaching science to English Language Learners to integrating current events into science instruction.
Attendees have the chance to swipe, tap, pinch and rotate the new iBooks for iPad as well as test-drive other digital learning technologies hands-on in the Pearson exhibit. A pioneer in developing digital and mobile teaching and learning technologies, Pearson collaborated with Apple to recreate the iBook textbook and help teachers offer a learning experience for students illuminated with color, video, 3D animation and interactive images. Featuring three of Pearson's top-selling textbooks reimagined for iPad, Miller & Levine Biology, Environmental Science and Chemistry, the iBooks are built on the company's decades of expertise and research in teaching and learning proven to work in the classroom.
The new iBooks join Pearson's library of science titles available via the company's eText for Schools app on both iPad and Android tablets. With the eText for Schools app, pages display true to the print version and are enhanced with powerful interactive features such as full-text search, highlights, notes, bookmarks, multimedia content and multilingual glossaries.
"Digital and mobile learning are revolutionizing science education. Now students at all grade levels have incredible opportunities to interact with the content they are learning through videos, 3D animations and illustrations that bring complex science concepts to life," said Pearson's Senior Vice President for Science Lynda Cloud. "Combining the power of personalized instruction and efficacy-based, standards-aligned content, our engaging digital programs will ignite learning, preparing students for success in college and careers in the exploding fields of science, engineering and technology."
Science educators will also have the chance to explore other revolutionary digital learning programs from Pearson, including Online Learning Exchange (OLE), a reliable, web-based destination where K-12 teachers can create their own customized lessons and personalize classroom instruction to improve their students' learning. OLE brings together tools for teachers to aggregate their own content, quality third-party resources, and numerous digital assets from Pearson's research-based instructional materials, all tagged by subject, grade and educational standard.
Learning resources for biology, chemistry and physics are available on OLE. This wide range of science content, assessments and activities includes lesson plans, presentation templates, videos and interactive learning resources, which can be used in conjunction with all science programs. The one-stop-shop platform also offers fully searchable third-party content, including editorial photographs and animations from Getty Images, educational resources and standards-aligned science courses from NASA, videos and podcasts from the world-traveling Untamed Science team, and research-based interactive simulations of physical science concepts from the University of Colorado-Boulder's PhET science site.
Another hot topic at the 2012 NSTA conference is the new Next Generation Science Standards, which are set to debut later this year. With the goal of being rich in content and pace, arranged in a coherent manner across disciplines and grades to provide all students an internationally benchmarked science education, the new standards are based on the Framework for K–12 Science Education developed by the National Research Council.
"As science educators respond to the draft of the Next Generation Science Standards, I am looking forward to meeting with them and hearing their views," said Cloud. "I know our conversations will inform our authors, instructional designers and technology developers as we continue to invest in the development of learning technologies and science curriculum for the next generation of digital learners."
About Pearson
Pearson, the world's leading learning company, has as its mission to work side by side with states, districts, teachers, students and parents to ensure that every child is prepared for college and career (NYSE: PSO). For more information, go to http://www.pearsonschool.com.
Contact:
kate(dot)miller(at)pearson(dot)com -1.800.745.8489