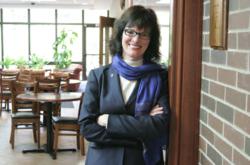 Our source for oneness is not in formal agreement regarding details—rather it is in Jesus Christ and his mission
Dayton, OH (PRWEB) March 30, 2012
As sponsor of The United Methodist Church's General Conference in Tampa, Florida, in April, United Seminary in Dayton, Ohio, has committed to a prayer and high hopes for the gathering: "Holy Spirit, Make Us One!"
This prayer for unity may seem surprising given the controversial issues that will be decided. "Our source for oneness is not in formal agreement regarding details—rather it is in Jesus Christ and his mission," stated the seminary President Wendy Deichmann. "When we are united in the Spirit and mission of Jesus Christ, we can make a difference for the better," she added.
At the gathering of representatives of the 12 million member denomination, three decisions with far-reaching implications for United Methodists include whether or not:

To approve a massive restructuring proposal to reduce infrastructure costs and to channel more funds into development of young leaders
To expand and strengthen the international and intercultural nature of the denomination
To discontinue its policy of "guaranteed appointment" to pastors who have met requirements for ordination
United Theological Seminary, founded in 1871, is affiliated with The United Methodist Church, graduating dozens of pastors and other church leaders each year to serve in congregations and other ministries in the United States and around the world. In recent years the seminary has revised its curriculum to focus upon education for Church Renewal. United is currently one of the fastest growing seminaries in the United States.