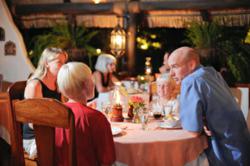 Belize is a very easy place for the family to enjoy an exotic summer vacation
(PRWEB) March 28, 2012
The Lodge at Chaa Creek is offering a unique opportunity for families to discover Belize's fascinating ancient Maya culture and stunning natural beauty during the summer of 2012 with affordable all-inclusive Belize vacation packages and now some very family friendly discounts, the eco-resort's Hilltop Spa manager, Bryony Fleming announced today.
"We've always been very family-oriented at Chaa Creek, and the summer of 2012, with all the attention Maya culture is receiving, is a real opportunity for families to share in an once-in-a-lifetime experience they'll remember forever, and our affordable Family Adventure packages have been fine-tuned to ensure everyone gets the most out of their Belize summer vacation," Ms Fleming said.
Ms Fleming just announced that Chaa Creek's Family Adventure vacation package is being discounted by 10% for late April and May and the entire month of July, with individual rooms for those who do not wish the entire vacation packages also attracting significant discounts.
"In our experience, nothing brings a family closer together than sharing new discoveries, and when you combine this with healthy, fun outdoor activities such as exploring ancient Maya temples and canoeing the old Maya river trade routes, it's a recipe for an amazing summer vacation. And with Chaa Creek's all-inclusive family vacation deals and these new discounts, it's also an affordable way to do something you'll all be talking about for years," she said.
The Lodge at Chaa Creek sits amidst a 365 acre private nature reserve in Belize's heartland of the Maya, located almost midway between the ancient Maya metropolises of Caracol in Belize and nearby Tikal in Guatemala. Other important Maya temples and archaeological sites such as Xunantunich, Cahal Pech, El Pilar and a number of smaller sites are all in close proximity, with the ancient temple of Tunichilen and 70 other Maya sites located within the Chaa Creek reserve.
Chaa Creek also features the Maya Organic Farm that supplies the restaurant, the Maya Medicinal Plant Trail, internationally recognised Natural History Centre, Butterfly Farm and amenities including the restaurant, jungle lounge, a professional spa, conference centre and stables. Miles of trails run through the grounds that are perfect for hiking, bushwalking, horseback and mountain bike riding, and canoes are available for exploring the Macal river on guided or self-guided excursions.
Ms Fleming said that Chaa Creek has always encouraged families to immerse themselves in Belize's natural beauty and vibrant Maya culture through structured and self-paced activities, and 2012 presents a unique opportunity for families to share in an event that is truly extraordinary.
"Belize is a very easy place for the family to enjoy an exotic summer vacation. It's just a short hop from the US and summer weather is lovely, with temperatures averaging 82°F (28°C). With a friendly, English-speaking population, currency pegged to the US dollar, and an amazing variety of things to see and do in a little country that combines beautiful uncrowded Caribbean beaches alongside the second largest barrier reef in the world, pristine rainforests and of course the rich Maya heritage, we'll guarantee that no member of the family will be bored this summer," she said.