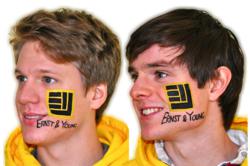 Ross and Ed really capture the entrepreneurial spirit and are
making a huge success out of their idea
London (PRWEB UK) 29 March 2012
What began as a wacky idea born out of a hostile job market and poor economic climate has, in six months, grown into a viable marketing business. Ross Harper and Ed Moyse, 22, created BuyMyFace.com as a way of paying off their student debt whilst having, 'a hell of a time doing it'.
Since the start of their project in October 2011, the boys have appeared on national and international television and radio, and have been sent skiing, skydiving and go-karting, all in the name of advertising. Now, their venture develops further with the endorsement of global consultancy firm, Ernst &Young.
The concept behind BuyMyFace.com is simple – companies purchase a date from an online calendar (featured on the website), they upload a logo and a hyperlink, and on that day, Ross and Ed transform their faces into an advert, posting pictures on their homepage. This type of viral marketing appeals to those trying to create a novel advert and get involved with a fun, creative project. With thousands of people visiting BuyMyFace.com every day, Ross and Ed have transformed their faces into an asset worth over £30,000.
"We're absolutely thrilled with the success of our idea. The novelty is that the adverts are on our faces. The reality is that we divert our heavy traffic onto our clients, and in doing so, boost brand awareness and SEO." (Ed Moyse)
Having purchased ten days of advertising with BuyMyFace.com in December, Ernst & Young will now exclusively sponsor the website. This entitles the consultancy firm to a number of days advertising with the BuyMyFace boys. Having already had Ross & Ed abseiling from the 9th floor window of a London office, future collaborations between the two companies look to be as exciting as ever.
"BuyMyFace.com is a unique way for Ernst and Young to engage with our target student audience. We have worked on several campaigns over the last couple of months and Ross and Ed have suggested innovate ways to gain greater exposure. Ross and Ed really capture the entrepreneurial spirit and are making a huge success out of their idea." (Jane Robinson, Recruitment Marketing, Ernst & Young)
"We're absolutely thrilled to work with Ernst & Young. They've been incredibly supportive and their friendly attitude towards work fits in perfectly with our website." (Ross Harper)
"After the skiing trip in December, and our recent abseiling adventure, I've no doubt the Ernst & Young sponsorship will lead to some more great experiences for Ross and me in the future." (Ed Moyse)
Looking to the future, the boys are planning to franchise their unique idea out to students and graduates across the world. Their idea would remain online, but with the website displaying specific content between countries as determined by the IP address of the user.
"We started BuyMyFace.com as a way of paying off our student debt - something that is common for many people our age. Since going global, the BuyMyFace inbox has been inundated with emails from people all over the world. We're excited to be taking our idea to the next level." (Ross Harper)