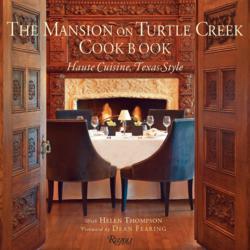 This book is all about a celebration of the Mansion's culinary history," said Executive Chef Bruno Davaillon. "The Mansion Restaurant has always been a trend setter – first with a new Southwest cuisine and now with our haute Texas cuisine…
Dallas, TX (PRWEB) March 29, 2012
It's a celebration of what the Dallas Restaurant means to local cuisine and, also, how regional flavors and ingredients have shaped the restaurant's haute Texas cuisine.
"This book is all about a celebration of the Mansion's culinary history," said Executive Chef Bruno Davaillon. "The Mansion Restaurant has always been a trend setter – first with a new Southwest cuisine and now with our haute Texas cuisine – and this book is a beautiful reflection of our evolution and influence. I'm honored to be a part of the Mansion Restaurant's legacy and future."
The Mansion on Turtle Creek Cookbook offers visitors and home cooks signature dishes from the restaurant, from accessible favorites such as tortilla soup and lobster tacos to refined showstoppers like Chorizo-Crusted Halibut with white bean puree and stuffed piquillo peppers and Braised Pork Cheeks with creamy Homestead Gristmill grits.
The book's haute Texas cuisine is reflected in nine chapters, which include:

Appetizers
Soups & Salads
Fish & Shellfish
Game & Fowl
Meat
Sauces & Sides
Brunch
Bar Food & Cocktails
Desserts
Readers will find more than 90 mouth-watering recipes, many beautifully captured with stunning images shot exclusively for the book, along with both interior and exterior photographs taken on and around the Mansion Restaurant's elegant and inviting grounds.
Additionally, peppered throughout the book are texts and sidebars that speak to the Mansion Restaurant's commitment to sourcing the finest ingredients and products available. These vendor spotlights highlight local purveyors and artisans that are essential to the Mansion – such as Paula Lambert and her fine cheeses, Becker Vineyards in the Hill Country and Broken Arrow Ranch for game, just to name a few.
The Mansion on Turtle Creek Cookbook: Haute Cuisine, Texas Style, is a must-have on every cookbook shelf. It is available for purchase at Rosewood Mansion on Turtle Creek and all major booksellers on April 2, 2012.
THE MANSION ON TURTLE CREEK COOKBOOK: Haute Cuisine, Texas Style
Hardcover / 256 pages / 9" x 9" / 150 color photographs / $39.95 U.S.
ISBN: 978-0-8478-3653-6 / Publication date: March 2012
A selected recipe from The Mansion on Turtle Creek Cookbook: Haute Cuisine, Texas Style:
Whole Roasted Chicken with tomatillo and ancho chile sauce
serves 4
Tomatillo and Ancho Chile Sauce
10 tomatillos, husks left on
2 dried ancho chiles, seeded, stemmed, and steeped in 1 cup hot chicken stock
3 cloves garlic, chopped
1 small red onion, diced
1 jalapeño, seeded, stemmed, and chopped
2 teaspoons chopped cilantro
1 teaspoon ground cumin
2 teaspoons dried Mexican oregano
1 tablespoon Champagne vinegar
2 tablespoons canola oil
Salt and black pepper
Roasted Chicken
1 (4-pound) whole organic chicken
3 sprigs fresh rosemary, plus 2 for basting
3 sprigs fresh thyme, plus 2 for basting
1 lemon, sliced
Salt
Black pepper
4 tablespoons olive oil
2 teaspoons piment d'Espelette (may substitute 1 teaspoon cayenne pepper)
½ cup (1 stick) unsalted butter
1 cup chicken stock
Juice of 1 lemon
1 cup white wine
To make the tomatillo sauce, preheat the oven to 350 degrees F. Place the tomatillos on a sheet tray and roast them for 12 to 15 minutes. Remove them from the oven and set aside to cool. Keep the oven at 350 degrees F for the chicken.
When the tomatillos are cool to the touch, remove the husks and cores. In a food processor fitted with a metal blade, pulse the softened ancho chiles just until they are chopped. Add a little of the hot chicken stock if needed to process the chiles, but be careful not to puree the chiles. Add the tomatillos, garlic, onion, jalapeno, cilantro, cumin, Mexican oregano, vinegar, and oil. Pulse for a few seconds, or until well incorporated. Season the sauce with salt and black pepper to taste, transfer to a serving dish, and set aside.
Remove the wing tips and middle joints of the chicken wings. Remove the organs from the bird and discard. Stuff the bird with 3 sprigs fresh rosemary, 3 sprigs fresh thyme, and the lemon slices. Salt and pepper the inside of the bird. Using butchers' twine, tie the legs together. Line the inside of a baking dish large enough to hold the chicken comfortably with foil. Oil the bird liberally with your hands and then season well with salt, black pepper, and espelette.
In a 2-quart saucepot over low heat, melt the butter. Add the chicken stock, lemon, white wine, and the remaining fresh herbs. Just bring the mixture to a simmer, then turn off the heat. This liquid will be used for basting the chicken during the cooking process. Roast the chicken for 50 minutes to 1 hour, basting the bird with the liquid every minutes.
When the chicken is golden brown and crispy, remove it from the oven and let it rest for 10 to 15 minutes. Untie the legs and remove the herbs and lemons. Arrange the herbs and lemons on a serving platter and place the whole bird on the platter. Baste the bird once more, carve, and serve with the tomatillo and ancho chile sauce on the side.
Rosewood Mansion on Turtle Creek® retains the intimate ambience and charm of the private residence it once was. Originally built by a cotton magnate in 1925, the 16th-century Italian Renaissance-style estate was transformed 55 years later into a world-class restaurant and hotel with 143 elegantly furnished rooms and suites. In 2010, the Mansion turned 30 and debuted dramatically redesigned rooms and a sophisticated new lobby. The hotel redesign came on the heels of a multi-million-dollar restaurant renovation that resulted in a contemporary and elegant restaurant, stylish bar and comfortable terrace featuring modern French cuisine by Executive Chef Bruno Davaillon. The Mansion's innovative new design adds modern elements and artwork while paying tribute to signature residential and architectural details.
Founded in 1979 and headquartered in Dallas, Texas, Rosewood Hotels & Resorts® manages one-of-a-kind luxury properties in the world's most desired destinations. Rosewood properties embrace the company's A Sense of Place® philosophy, reflecting the history, architecture, scale and sensibilities of the destination. The Rosewood collection includes some of the most legendary hotels and resorts in the world, including Rosewood Mansion on Turtle Creek® in Dallas, The Carlyle in New York, Rosewood Little Dix Bay on Virgin Gorda, as well as contemporary classics such as Rosewood Sand Hill® in California, Rosewood San Miguel de Allende® in Mexico, and Rosewood Tucker's Point in Bermuda. Rosewood also offers Sense® spa – featuring treatments reflective of the location's culture and natural environment - available exclusively at select properties.
Author Helen Thompson was a food writer at Texas Monthly and an editor at Metropolitan Home. Her articles have appeared in Elle Décor, Men's Journal, Architectural Digest, Traditional Home and Veranda. Dean Fearing, who wrote the forward, is a Beard award winner for Best Chef in the Southwest. He was executive chef at Rosewood Mansion on Turtle Creek for more 20 years. He has received accolades in such publications as Esquire, the New York Times, Newsweek, Food & Wine and Texas Monthly.