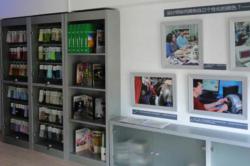 With the great support and co-operation from TASCII, we are now able to introduce our color communication tools and technology to students, and give young designers the best start in using color the right way
Shanghai, China (PRWEB) March 29, 2012
Color Solutions International, a subsidiary of the DyStar Group, together with TASCII of Tsinghua University in Beijing are proud to announce the opening of their CSI Design Studio. The Beijing studio is to serve as a training, resource and inspiration center for both the professors and budding designers.
The CSI Studio is located within the premises of Tsinghua University's Art & Science Center. It also serves as the base for the strategic partnership, to facilitate color research, application and communication for the textile industry. The partnership aims to raise the current technology and application standard for colors within the China Textile Industry as well as improve its sustainability and competitiveness.
"With the great support and co-operation from TASCII, we are now able to introduce our color communication tools and technology to students, and give young designers the best start in using color the right way," said Simon Collinson, Managing Director of CSI (Shanghai) Co., Ltd. "We are also pushing forward the brand names of DyStar and CSI as the leading communicator of color within the textile and design industries in China," he added.
"We are glad to be working closely with CSI, to use the color studio as a platform to promote complete color solutions for designers and brands," said Song WenWen, Deputy Director of TASCII. "In addition, the university is where we nurture top designers. The CSI Design Studio is the ideal sustainable platform where students, professors and designers could benefit from the approximately 4000 CSI color references and its services – from first inspiration to color selection to production and final product in the store."
With the cooperation between CSI and TASCII, students and professors from other faculties, such as the department of textiles, will also benefit from the seminars organized by CSI.
ABOUT DYSTAR
DyStar, with a heritage of over 100 years of both product and application innovation, was founded in 1995 as a coloration specialist for the textile and leather industries. Since then, the company has transformed itself into a solution provider, offering customers a complete range of colorants, auxiliaries and services. The DyStar Group has offices, competence centers, agencies and production plants in over 50 countries to ensure expertise is both global and local for brands & retailers, mills and dye-houses. Its DyStar Textile Services (DTS) division offers state of the art color communication through Color Solutions International (CSI), textile and ecology testing through Texanlab and ecology and environmental solutions and advice through its Ecology Solutions team. With a focus on sustainability and eco compliance, our team of well-trained staff and modern service labs in major markets ensure that customers all over the world receive fast and expert technical assistance and advice to reduce costs, shorten lead times and meet stringent quality and ecological specifications. For more information, please visit us at http://www.DyStar.com.
ABOUT TASCII
TASCII (Tsinghua Color & Imaging Institute) of Tsinghua University is China's first professional color research and application center. It is dedicated to both the theory and application aspects of research on color, imaging and related services, carry out innovative research, used as the basis to support industries concerning with color design, color management, color communication, image processing and other related areas. The Institute also provides a platform for cultivating interdisciplinary specialists in color artistry/design and color science/technology. For more information, please visit http://www.tascii.org