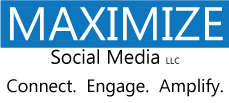 Los Angeles, CA (PRWEB) March 28, 2012
Maximize Social Media LLC, a leading social media agency, named Jarrett Smith as Director of Strategic Services today. Smith will focus on developing strategic initiatives for the company's clients that will ensure viral growth across numerous social media platforms.
Smith has extensive experience in project management, organizational development, and instructional systems design. As a training developer for a Fortune 100 company, Jarrett mastered the ability to conduct detailed needs analyses and design creative solutions aimed at solving critical business objectives. During his tenure, he implemented numerous company-wide change management, communication, and training initiatives, including a comprehensive development program for mid and senior level managers.
"Jarrett's background in project management as well as instructional systems design makes him a perfect choice to lead our strategic initiatives. The ability to effectively communicate a clients' value proposition across numerous social media platforms is critical to success with earned media, and we know that Jarrett's skill set is perfect for helping our clients' communicate that value proposition," said Chris McLaughlin, CEO of Maximize Social Media LLC.
Added Smith: "I'm excited to work with Maximize and continue their fine work in social media consulting. After all, social media isn't about just making a status update. It is about becoming social and communicating with existing customers and prospects. Each client needs a specific strategy to determine how best to position the brand utilizing social media." said Smith.
An example of a well planned strategic social media campaign by Maximize is that of MaxxAir Vent Corporation, a leading provider of RV ventilation systems. "Our strategy was to start a conversation with RV owners about what they love – RVs. That turned MaxxAir's fan page into a leading source of information and commentary for the RV enthusiast. There are now over 34,000 RV owners interacting with MaxxAir on its fan page with extremely high engagement levels -- and MaxxAir is the at the center of that conversation," said Smith.
"We know that with Jarrett's leadership and skill set we're going to have a lot more brands at the center of the conversation going forward," said McLaughlin.
About Maximize Social Media LLC
Maximize Social Media (http://www.maximizesocialmedia.com) is an agency that provides social media management services for clients in over 40 different verticals. With offices in Florida and Los Angeles, Maximize offers social media consulting and Facebook advertising management for clients in English speaking countries such as the US, Canada, and Australia. The company also features social media management outsourcing for busy social media mangers looking for additional assistance on a white label basis.